Happy Thanksgiving! We're doing a short family vacation right now. Orders for in-stock items will shipped on Monday Nov 26th.

Ships from:

This artwork is
100% hand-painted.
---
Sorry, no close-up image available for this one.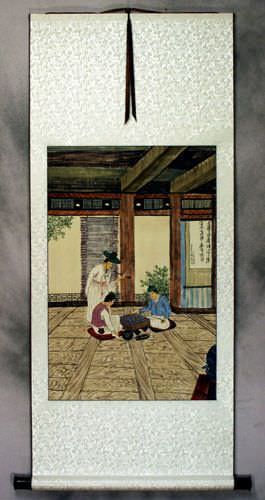 North Korean Strategy Game Gathering Wall Scroll
The gentlemen in this painting are wearing very traditional Korean clothing - depicting a time when Korea still had an emperor (and there was no such thing as North Korea or South Korea).
The men are playing an Asian game of strategy. It is a very complex game known as Baduk in Korean and Weiqi in Chinese. Sometimes it's called "Go" in the west, but this is not the simple 5-in-a-row game that most westerners are familier. The stategy in this game can only be compared to Chess, and games can last for hours.
This item was listed or modified
Mar 23rd, 2009
Similar Items...
Gallery Price: $200.00
Your Price: $78.88
Gallery Price: $45.00
Your Price: $25.00
Gallery Price: $120.00
Your Price: $45.00
Gallery Price: $63.00
Your Price: $35.00
Gallery Price: $63.00
Your Price: $35.00
Gallery Price: $65.00
Your Price: $36.00
Gallery Price: $54.00
Your Price: $30.00