Buy a Chinese and/or Japanese Destiny wall scroll with here!
Click the "Customize" button next to your name below to start your custom Destiny calligraphy artwork...

mìng

inochi / mei

명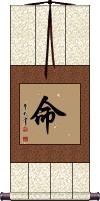 命 is often translated as "destiny."

Sometimes this character is simply translated as "life" but more in terms of one's lot in life. In certain context, this can mean command or decree (generally from a king or emperor). Of course, such a decree are part of fate and lead you to fulfill your destiny.

In Chinese, this word leans toward the fate or destiny definition.
In Korean, it is usually read simply as "life."
In Japanese, it can mean all definitions shown above, depending on context.
---
See Also: Good Fortune

yuán fèn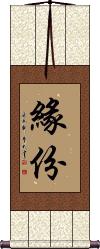 These two characters contain the ideas of fate. But this is specifically the fate or destiny that brings two people together.

緣份 / 緣分 is like the chance meeting of two people that leads some time later to marriage.

This could also be the chance meeting of two business people, who become partners and build a huge and successful company.

Basically, this is an idea often associated with a fateful meeting leading to good fortune.

Some will define this word as, "The destiny brings you two together," or "Meant to be."
---

Note: The second character can also be written without the left radical, as shown to the right. If you have a preference, please let use know in the special instructions for your project. There is no difference in meaning or pronunciation, just two (alternate) ways to write the same character.
---
See Also: Soulmates | Good Fortune

mìng yùn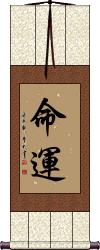 These two characters contain the ideas of "fate," "destiny," "fortune" and "luck." You can also say that it means "what life throws at you" or "your lot in life" because the first character contains the idea of "life" or "living."

This version is really only used in Chinese. There's another version with just the characters reversed that is more universal. In fact, just skip this one. The opposite character order is better.

yùn mìng

un mei

운명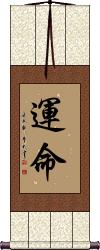 These two characters contain the ideas of "fate," "destiny," "fortune" and "luck" in Chinese, Japanese Kanji, and old Korean Hanja.

運命 is often defined as "a person's fate" in various dictionaries.

These two characters can be reversed (written in either order) and yield roughly the same meaning.

This particular character order happens to be more common in old Korean and less common in modern Chinese.
---
See Also: Good Fortune | Good Luck

tiān yì

teni

천의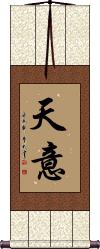 天意 is a way to express destiny in a slightly religious way. Literally this means "Heaven's Wish" or "Heaven's Desire" with the idea of fate and destiny being derived as well. It suggests that your destiny comes from God / Heaven and that your path has already been chosen by a higher power.

My Japanese dictionary defines this word as "divine will" or "providence" but it also holds the meaning of "the will of the emperor." Therefore, I don't suggest this phrase if your audience is Japanese - it feels a little strange in Japanese anyway.

yīn yuán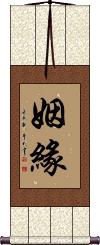 These two characters mean, "Destiny that brings lovers together." It can also be translated technically as, "Predestined matrimonial affinity" (wow, talk about taking the romance out of this word - that was from the Oxford C-E dictionary).

Basically, this is talking about the fate (or karma) that brings a husband and wife together. I would translate this as "Together by fate" or "Joined by destiny" but in the context of marriage. You could use this for non-married lovers but the first character has a suggestion that this refers to those that are married.

akai ito

This literally translates as, "the red string" or "the red thread" in Japanese but the real meaning is much deeper...

In Japanese culture, it's believed that fate, destiny, or karma joins lovers by an unseen string, tied around one little finger of each. 赤い糸 is how soul mates fine and are drawn to each other.

The Japanese concept of the red thread of fate, by most estimations, comes from Chinese folklore, where it's known as 姻緣紅線. The only difference being that in China, the celestial red thread is tied around the ankles of the lovers (versus what is usually represented to be the pinky finger in Japan).

yīn yuán

in nen

인연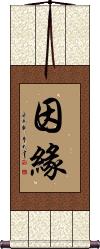 因緣 is the Buddhist concept of a chance meeting or an opportunity that presents itself by fate.

Sometimes this is used to describe a cosmic chain of events or cause and effect.

It also is used to describe predestined relationships between people - and sometimes married couples (although if you want one about marriage, try this: Fate / Destiny of Lovers.

因緣 can also be translated as origin, karma, destiny, affinity, connection, and relation. This all depends on context - seen alone on a wall scroll, this will be read with a "fate / chance" meaning by a Chinese person, or a Korean person who can read Hanja.

The more complex definition of this word would be, "Direct causes and indirect conditions, which underlie the actions of all things."

This concept is known as nidana in the original Sanskrit. Also sometimes presented as hetupratyaya (or "hetu and prataya") which I believe is Pali.
---
Note: Japanese will tend to use this version of the second Kanji:


If you order this from the Japanese master calligrapher, expect that you'll get this version. However, this word often carries a negative connotation in Japanese (bad things happen), as it is used that way in a certain Japanese idiom. Therefore, this may not be the best choice if Japanese is your target language.
---
See Also: Buddhism | Opportunity
The following table may be helpful for those studying Chinese or Japanese...
Title
Characters
Romaji

(Romanized Japanese)

Various forms of Romanized Chinese
Destiny
黛絲蒂妮

---

黛丝蒂妮
dài sī dì nī

---

dai4 si1 di4 ni1

---

dai si di ni

---

daisidini
tai ssu ti ni

---

taissutini
Destiny
Fate
命
inochi / mei
mìng / ming4 / ming
Fate
Chance Meeting
緣份 / 緣分

---

缘份 / 缘分
yuán fèn / yuan2 fen4 / yuan fen / yuanfen
yüan fen / yüanfen
Predestined Love
Love by Fate
情緣

---

情缘
qíng yuán

---

qing2 yuan2

---

qing yuan

---

qingyuan
ch`ing yüan

---

chingyüan

---

ching yüan
Destiny
Fate
命運

---

命运
mìng yùn / ming4 yun4 / ming yun / mingyun
ming yün / mingyün
Destiny
Fate
運命

---

运命
un mei / unmei
yùn mìng / yun4 ming4 / yun ming / yunming
yün ming / yünming
Destiny Determined by Heaven
天意
teni
tiān yì / tian1 yi4 / tian yi / tianyi
t`ien i / tieni / tien i
The Karma/Fate/Destiny / that Brings Lovers Together
姻緣

---

姻缘
yīn yuán / yin1 yuan2 / yin yuan / yinyuan
yin yüan / yinyüan
Such is Life
Such is Destiny
這就是命

---

这就是命
zhè jiù shì mìng

---

zhe4 jiu4 shi4 ming4

---

zhe jiu shi ming

---

zhejiushiming
che chiu shih ming

---

chechiushihming
The Red String
赤い糸
akai ito / akaiito
Fate
Opportunity
Chance
因緣

---

因缘 / 因縁
in nen / innen
yīn yuán / yin1 yuan2 / yin yuan / yinyuan
yin yüan / yinyüan
In some entries above you will see that characters have different versions above and below a line.
In these cases, the characters above the line are Traditional Chinese, while the ones below are Simplified Chinese.
All of our calligraphy wall scrolls are handmade.
When the calligrapher finishes creating your artwork, it is taken to my art mounting workshop in Beijing where a wall scroll is made by hand from a combination of silk, rice paper, and wood.
After we create your wall scroll, it takes at least two weeks for air mail delivery from Beijing to you.
Allow a few weeks for delivery. Rush service speeds it up by a week or two for $10!
When you select your calligraphy, you'll be taken to another page where you can choose various custom options.
20000-NAMES.COM: Luck Names, Fortune Names, page 1 of 1 ...
BONIFAZ: German form of Latin Bonifatius, meaning "good destiny/fate." CHAO-XIANG (??): Chinese name meaning "surpassing...
"Destiny" in Chinese, calligraphy, pronunciation.
Your name in English, Chinese character, Pinyin pronunciation and Calligraphy.
Chinese Symbol for Destiny: Chinese Character, Writing, Letter
Free Chinese symbol translation for destiny
Destiny in Chinese Characters and Japanese Kanji Symbols ...
If you are looking for Destiny in Chinese or Japanese, you have come to the right place ... This is the transliteration to Mandarin Chinese for the name Destiny
Buy Destiny Chinese Calligraphy Wall Scrolls Here!
Select the ancient Chinese way to say destiny, and we will have a destiny calligraphy wall ... an optimist in life. Note: This is sometimes used as a given name in China.
What's in a name? Destiny, Chinese say
What's in a name? Destiny, Chinese say 2006-03-18 07:11. The bliss a newborn child brings to a family is always accompanied by finding a name for the baby.
Meaning of Destiny - American baby name
Find the meaning of the name Destiny. Search more than 30000 baby names meanings.
... Basque Names Chinese Names Danish Names Dutch Names Gaelic Names German Names
Chinese Symbol: 1 symbol words list A-B-C
Chinese Symbol: 1 symbol words list ... Some suggestions for 1 symbol words. Those words are only a sample.
Symbol Search: Destiny - Real Time & Delayed Quotes, Charts, News ...
TradeSignals - Professional quality quotes, charts and news for futures, options and stock traders. Interactive Java charts, newsletters, futures
Chinese Tattoo Translation, Chinese Symbols and Custom Calligraphy ...
...to you like a symbol is actually a Chinese character with pictorial, inferral...
Symbol Search: Destiny - Real Time & Delayed Quotes, Charts, News
DSNY (DESTINY MEDIA TECHNOLOG) 0.3000 -0.0300 Symbol Search ... Fidelity Advisor Destiny Ii Fund Class B FDEBX Fidelity Advisor Destiny Ii...
Symbol Search: Fidelity Destiny Portf Distiny - TradeSignals
Symbol Search: Fidelity Destiny Portf Distiny ... Symbol Search Enter description to retrieve symbols. EG: Enter corn to return all symbols...
Symbol Search: Fidelity Destiny 2 - Real Time & Delayed Quotes, ...
Your search - Fidelity Destiny 2 - did not match any documents.
... Symbol Search Enter description to retrieve symbols.