We don't want to, but prices are going to have to increase soon.
Reasons:
Thanks to George W. Bush's handling of the U.S. economy, the value of the Dollar is the weakest ever (he says this is a good thing, I say it's good for some, but bad for others - he also says he favors a "strong dollar" so, as usual, he's talking out of both sides of his mouth).
We are in "stagflation" in the USA - our cost of living is increasing, but our income is decreasing (Thanks W!).
In response to Washington's demands on China, the RMB (Chinese Yuan or CNY) has been somewhat "unpegged" from the U.S. Dollar (in mid-2005), and has been adjusting ever since.
This really affects us, as we buy artwork, and pay wages in RMB, but sell the artwork in USD. The result is we pay more, and make less.
This means several things:
The artwork, wages, transport, and our other costs have effectively increased by about 13.5% since mid-2005.
In that time, cost of living has increased by about 12-15% in the USA.
Also, the cost of living is skyrocketing in Beijing (location of our headquarters) as the Olympics approach (good old Capitalism is fully embedded in China, and means plenty of price gouging).
Our artwork is a real bargain for European, UK, Australian, and Canadian customers (as if it wasn't a bargain before). At least this is good for some people.
Here is a chart of the Chinese RMB against the U.S. Dollar for the last few years (notice the curve - this means, the rate at which things are getting worse, is getting worse).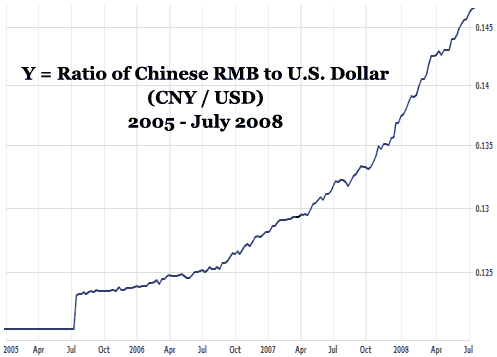 In simple terms, the graph shows how our costs have increased since mid-2005.
In technical terms, it's an exponential increase in costs, with no end in sight.
I have just returned from an art-buying adventure, covering about 3000 miles within China to visit many of my artist-friends, and buy a lot of new artwork (about 1200 pieces). I am now in the process of slowly adjusting the prices on many items. I probably should have done this two years ago, but I just hate to increase prices. As of today, I am not even half-way done. So if you see a good deal, take it now - tomorrow, the price could be 5-20% higher.