Please first note that we do not offer this service for (much) profit. This is more a courtesy for people in these positions:
1. Independent artists around the world.
2. Those that were tricked by unscrupulous sellers in eBay into buying un-mounted artwork that no western framer could deal with.
3. Those who accidentally bought un-mounted Asian artwork as tourists in China, Japan, Korea, etc.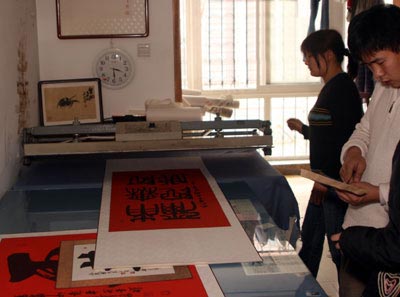 Also note: Our price is good, our quality is excellent, but we are not fast. Lately, it's taking 5 full weeks for custom mounting jobs to be completed and returned to our customers. This is much faster than we used to be.
We do not want to re-mount any antique wall scrolls. We can, we just don't want to. The whole shop has to virtually shut down while we take up to 50 hours for just one antique wall scroll. If you want to remount a previously-mounted, or antique wall scroll, you will have to beg (a lot).
Tour our Asian Art Mounting Workshop - See how wall scrolls are built.
We can take your un-mounted artwork (on raw xuan paper) and mount it to a handmade silk wall scroll at our workshop in Beijing.
Prices are $32.88 for a wall scroll with an artwork panel up to 33cm (13") wide.
$17 extra for paper widths between 34cm and 50cm.
Or add $35 for paper widths up to 70cm.
Shipping charges are $9.80 for the whole order of wall scrolls shipped with the same order. If you have 1 or 35 wall scrolls to be mounted, you pay just $9.80 for shipping back from China.
Color choices for this special price are gold, white, or ivory silk for that price. Some other colors are available for $2 more per wall scroll.
There are also other custom options such as two-toned silk (AKA inner silk frame), accent lines, and rush services if you need it faster.
The basic steps:
1. Provide a digital image (post it in a new topic on this forum).
2. I will resize and prepare your image, then give you a web address where you can customize your silk color and other options.
3. After you place your order, you mail the artwork to our workshop in Beijing (address will be provided).
The digital image is important, as it allows me to visually inspect your artwork (sometimes there are issues I find in those images that allow me to let you know about anything that might increase cost of handling your artwork - I don't like giving customers surprises later). I also use that image to track your artwork through the mounting and delivery process. I don't want to write any identifying marks on your artwork, so visual tracking is the only way to go.
Note: Please make your images not more than 600 pixels tall.