Buy a Custom Flow Chinese or Japanese Calligraphy Wall Scroll
We have many options to create artwork with the Chinese characters / Asian symbols / Japanese Kanji related to flow or flowing on a wall scroll or portrait.
---
---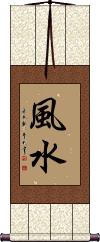 風水 is the famous technique and approach to arranging your home externally around natural features, and internally to create balance and peace.

These two characters literally mean "wind water". Obviously, the title is far more simple than the concept behind this subject.

It may enlighten you slightly to know that the character for "wind" can also mean "style", "custom" or "manner" in some context. This may apply somewhat to this title.

In a very technical sense, this title is translated as "Chinese geomancy".
Forgive and Forget
Water Under the Bridge

水に流す is a Japanese proverb which suggests that "water continues to flow".

It's similar to our English phrase, "Water under the bridge". The perceived meaning is, "Forgive and forget".

I have also seen this translated as, "Don't cry over spilled milk".
---
Note: Because this selection contains some special Japanese Hiragana characters, it should be written by a Japanese calligrapher.
Life Energy / Spiritual Energy
Chi Energy: Essence of Life / Energy Flow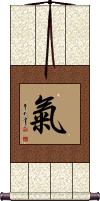 This energy flow is a fundamental concept of traditional Asian culture.

氣 is romanized as "Qi" or "Chi" in Chinese, "Gi" in Korean, and "Ki" in Japanese.
Chi is believed to be part of everything that exists, as in "life force" or "spiritual energy". It is most often translated as "energy flow", or literally as "air" or "breath". Some people will simply translate this as "spirit" but you have to take into consideration the kind of spirit we're talking about. I think this is weighted more toward energy than spirit.

The character itself is a representation of steam (or breath) rising from rice. To clarify, the character for rice looks like this:


Steam was apparently seen as visual evidence of the release of "life energy" when this concept was first developed. The Qi / Chi / Ki character is still used in compound words to mean steam or vapor.
The etymology of this character is a bit complicated. It's suggested that the first form of this character from bronze script (about 2500 years ago) looked like these samples:



However, it was easy to confuse this with the character for the number three. So the rice radical was added by 221 B.C. (the exact time of this change is debated). This first version with the rice radical looks like this:


The idea of Qi / Chi / Ki is really a philosophical concept. It's often used to refer to the "flow" of metaphysical energy that sustains living beings. Yet there is much debate that has continued for thousands of years as to whether Qi / Chi / Ki is pure energy, or consists partially, or fully of matter.

You can also see the character for Qi / Chi / Ki in common compound words such as Tai Chi / Tai Qi, Aikido, Reiki and Qi Gong / Chi Kung.

In the modern Japanese Kanji, the rice radical has been changed into two strokes that form an X.



The original and traditional Chinese form is still understood in Japanese but we can also offer that modern Kanji form in our custom calligraphy. If you want this Japanese Kanji, please click on the character to the right, instead of the "Select and Customize" button above.
---
More language notes: This is pronounced like "chee" in Mandarin Chinese, and like "key" in Japanese.
This is also the same way to write this in Korean Hanja where it is Romanized as "gi" and pronounced like "gee" but with a real G-sound, not a J-sound.
Though Vietnamese no longer use Chinese characters in their daily language, this character is still widely known in Vietnam.
---
See Also: Energy | Life Force | Vitality | Life | Birth | Soul
Warriors Adapt and Overcome
Soldiers need a fluid plan
bīng wú cháng shì shuǐ wú cháng xíng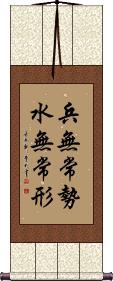 This literally translates as: Troops/soldiers/warriors have no fixed [battlefield] strategy [just as] water has no constant shape [but adapts itself to whatever container it is in].

Figuratively, this means: One should seek to find whatever strategy or method is best suited to resolving each individual problem.

This proverb is about as close as you can get to the military idea of "adapt improvise overcome". This is best way to express that idea in both an ancient way, and a very natural way in Chinese.
This in-stock artwork might be what you are looking for, and ships right away...
The following table may be helpful for those studying Chinese or Japanese...
Title
Characters
Romaji

(Romanized Japanese)

Various forms of Romanized Chinese
Go With The Flow
波に乗る
namininoru
Go With The Flow
隨波逐流

---

随波逐流
suí bō zhú liú

---

sui2 bo1 zhu2 liu2

---

sui bo zhu liu

---

suibozhuliu
sui po chu liu

---

suipochuliu
Feng Shui
風水

---

风水
fuu sui / fuusui / fu sui / fusui
fēng shuǐ

---

feng1 shui3

---

feng shui

---

fengshui
Forgive and Forget
水に流す
mizu ni naga su

---

mizuninagasu
Life Energy
Spiritual Energy
氣

---

气 / 気
ki
qì / qi4 / qi
ch`i / chi
Warriors Adapt and Overcome
兵無常勢水無常形

---

兵无常势水无常形
bīng wú cháng shì shuǐ wú cháng xíng

---

bing1 wu2 chang2 shi4 shui3 wu2 chang2 xing2

---

bing wu chang shi shui wu chang xing
ping wu ch`ang shih shui wu ch`ang hsing

---

ping wu chang shih shui wu chang hsing
In some entries above you will see that characters have different versions above and below a line.
In these cases, the characters above the line are Traditional Chinese, while the ones below are Simplified Chinese.
Many custom options...




And formats...




All of our calligraphy wall scrolls are handmade.
When the calligrapher finishes creating your artwork, it is taken to my art mounting workshop in Beijing where a wall scroll is made by hand from a combination of silk, rice paper, and wood.
After we create your wall scroll, it takes at least two weeks for air mail delivery from Beijing to you.
Allow a few weeks for delivery. Rush service speeds it up by a week or two for $10!
When you select your calligraphy, you'll be taken to another page where you can choose various custom options.