Buy a wall scroll with William in Chinese or Japanese.
We've carefully transliterated the name William into Mandarin Chinese and Japanese Katakana. Click a button below to see many custom calligraphy artwork options for William.

shou nen yo tai shi o ida ke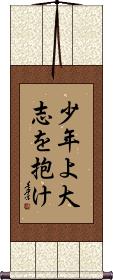 This was a sort of motto or proverb invoked by William S. Clark, after being hired by the Emperor of Japan in 1876 to establish a university in Hokkaido, Japan.

This phrase is famous across all generations of Japan since that time.
---
Note: Because this selection contains some special Japanese Hiragana characters, it should be written by a Japanese calligrapher.
The following table may be helpful for those studying Chinese or Japanese...
Title
Characters
Romaji

(Romanized Japanese)

Various forms of Romanized Chinese
Boys be Ambitious
少年よ大志を抱け
shou nen yo tai shi o ida ke

---

shounenyotaishioidake

---

sho nen yo tai shi o ida ke

---

shonenyotaishioidake
William
威廉
wēi lián / wei1 lian2 / wei lian / weilian
wei lien / weilien
William
ウイリアム
uiriamu
In some entries above you will see that characters have different versions above and below a line.
In these cases, the characters above the line are Traditional Chinese, while the ones below are Simplified Chinese.
All of our calligraphy wall scrolls are handmade.
When the calligrapher finishes creating your artwork, it is taken to my art mounting workshop in Beijing where a wall scroll is made by hand from a combination of silk, rice paper, and wood.
After we create your wall scroll, it takes at least two weeks for air mail delivery from Beijing to you.
Allow a few weeks for delivery. Rush service speeds it up by a week or two for $10!
When you select your calligraphy, you'll be taken to another page where you can choose various custom options.
Origin and Meaning of William - Baby Boy Name William
The Irish name William means - A name of German origin meaning "determined defense ... African Baby Names - Hawaiian Baby Names - Russian Baby Names - Chinese...
The Name Warehouse
7 BENJAMIN OLIVER SAMUEL WILLIAM DANIEL 8 SAMUEL WILLIAM WILLIAM SAMUEL ... A Chinese couple tried to name their baby "@," claiming the character used in e-mail addresses...
William (name) - Wikipedia, the free encyclopedia
William is a popular given name of old Germanic origin. It became very popular in the English language after the Norman conquest of England in 1066, and remained so throughout...
Meaning of William - German baby name
Find the meaning of the name William. Search more than 30000 baby names meanings.
... Basque Names Chinese Names Danish Names Dutch Names Gaelic Names German Names
WILLIAM ADAMS
Attributing examples of china marked Adams to a particular man can be complicated and confusing because so many of them bore the same given name, William.
Chinese names -- Writing your name in Chinese
As you may imagine, the Chinese read the news of the world in Chinese and when, say, Bill Gates visits China, they write his name in Chinese. They use two words which...
"William" in Chinese, calligraphy, pronunciation.
Your name in English, Chinese character, Pinyin pronunciation and Calligraphy.
Past Works
Among all
the symbols the
choice of the best had to be made this time.
... The winner of
Symbol
SavantTM for 2003 title went to
William
Craig for his set...
Books - Awareness of the Sacred
A Blake Dictionary: The Ideas and
Symbols
of
William
Blake ... Mystery of the Grail: Initiation and Magic in the Quest for the Spirit. Ananda K. Coomaraswamy, Myths of the...
William Nuti Named to Fast Company Magazine's Fast 50 List of ...
Symbol
Technologies, Inc. (NYSE: SBL), The Enterprise Mobility Companyâ_ ¢, today announced that
William
Nuti, president and chief executive officer, has been named...
A Blake Dictionary: Ideas and Symbols of William Blake: The ...
A Blake Dictionary: Ideas and
Symbols
of
William
Blake: The Ideas and
Symbols
of
William
Blake: Amazon.co.uk: Stephen Foster Damon: Books
BookFinder4u - A Blake Dictionary, The Ideas and Symbols of ...
A Blake Dictionary, The Ideas and
Symbols
of
William
Blake (S. Foster Damon, With a New Index by Morris Eaves), ISBN 0394736885, Book Finder, Compare Book Prices at...
Wills includes tribute to Diana in Garter crest with Spencer ...
William
incorporates touching tribute to Diana in new coat of arms ... Although it's unusual for maternal
symbols
to be added to a royal coat of arms, the sea shell - which has...
Symbol Technologies Chief Executive, Acting Chairman Richard ...
HOLTSVILLE, N.Y., December 30, 2003 -
Symbol
Technologies, Inc. (NYSE:SBL) announced today that Richard Bravman, chief executive officer and acting chairman of the...
Muslim World Hails End of a Despised Symbol - by William Fisher
The task force, mandated in the third order, is to develop policies for the ...
William
Fisher writes for Inter Press Service. Reproduction of...
The Tarot Garden Library: The William Blake Tarot
It's not just the onset of the millennium, for many critical ... And therefore I have renewed the old
symbols
of
William
Blake for our modern age,...
William Chiu's Symbol of Harmony
William
Chiu's
Symbol
of Harmony.
William
Chiu is the author of
Symbol
... But for some strange reason, his mother loved the place because she did not have...
Books
A Blake Dictionary: The Ideas and
Symbols
of
William
Blake ... sympathetic understanding of his teaching and its meaning for the modern reader...
Dedroidify: William Henry interview - Lost Symbols
William
Henry - Lost
Symbols
. Investigative mythologist and author
William
Henry talked about the significance of the art and
symbols
in the U.S. Capitol.