Not what you want?
Try searching again using:
1. Other similar-meaning words.
2. Fewer words or just one word.
Wand in Chinese / Japanese...
Buy a Wand calligraphy wall scroll here!
Start your custom "Wand" project by clicking the button next to your favorite "Wand" title below...
Switched to secondary search mode due to lack of results using primary.
These secondary results may not be very accurate. Try a different but similar meaning word or phrase for better results. Or...
Look up Wand in our Japanese Kanji & Chinese Character Dictionary
Our dictionary is a different system then the calligraphy search you just tried.
If you want a special phrase, word, title, or proverb, feel free to contact me, and I will translate your custom calligraphy idea for you.

lú wàng dá

盧旺達 is the Chinese name for the country of Rwanda
---
See Also: Africa

xiān

sento / sen

선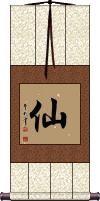 仙 means immortal (as in a being or person).

In some context, it can mean hermit, ascetic, man of the hills, or wizard. The Buddha is often put in this category.

In Chinese mythology and folklore, there is a famous group of eight immortals (八仙).

The 楞嚴經 (Śūraṅgama Sūtra) speaks of many kinds of immortals including walkers on the earth, fliers, wanderers at will (into space or into the deva heavens), beings with the ability to transform themselves into any form, etc.

làng rén

rou nin

낭인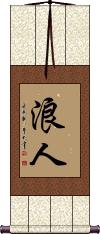 The Ronin have no master - The most famous are the 47 ronin created after their Lord committed suicide. This term was not exactly a positive title for the Samurai of ancient Japan. However, in recent years, movies and video games have glorified the term Ronin.

In Chinese, this term has the original meaning of a hobo, vagabond or ruffian.
In Korean Hanja, these characters would be read as adventurer, wanderer, someone without a steady job, or someone who is wasting away time.

In modern Japan, this term is used as a nickname for a high school student who has failed a college entry exam (and is trying again).

In Chinese and Korean, the Japanese definition of "Masterless Samurai" is known because of the historical context, even in Japanese, the literal translation is closer to the Chinese and Korean definitions shown above.

This will make a fine wall scroll if you are a fan of the Ronin, or see yourself as a Ronin of sorts. However, please think twice before getting a Ronin tattoo!

tái quán dào

te kon do

태권도

跆拳道 is one of the most widespread types of martial arts in the world as well as being an Olympic sport. Taekwondo was born in Korea with influences of Chinese and Japanese styles, combined with traditional Korean combat skills. Some will define it as the "Korean art of empty-handed self-defense."

In the simplest translation, the first character means "kick," the second character can mean either "fist" or "punching" the third means "way" or "method." Altogether, you could say this is "Kick Punch Method." When heard or read in various Asian languages, all will automatically think of this famous Korean martial art. It is written the same in Japanese Kanji, Chinese, and Korean Hanja characters - so the appearance of the characters are rather universal. However, you should note that there is another way to write this in modern Korean Hangul characters which looks like the image to the right.



We suggest the original Korean Hanja (Chinese characters) for a wall scroll but if you really need the Hangul version, you must use master calligrapher Xing An-Ping: Order Taekwondo in Korean Hangul
Note: Taekwondo is sometimes Romanized as Tae-Kwondo, Tae Kwon Do, Taekwon-do, Taegwondo, Tae Gweon Do, Tai Kwon Do, Taikwondo, Taekwando, Tae Kwan Do and in Chinese Taiquandao, Tai Quan Dao, Taichuando, or Tai Chuan Tao.

bō làng

harou

파랑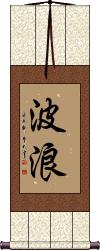 If you like to ride a surf board, and "the way of the wave" is your life, this could the scroll for you.

The additional meanings contained in these characters include ripple, storm, surge, breaker, wandering and unrestrained.
Search for Wand in my Japanese & Chinese Dictionary
The following table may be helpful for those studying Chinese or Japanese...
Title
Characters
Romaji

(Romanized Japanese)

Various forms of Romanized Chinese
Rwanda
盧旺達

---

卢旺达
lú wàng dá

---

lu2 wang4 da2

---

lu wang da

---

luwangda
lu wang ta

---

luwangta
Rwanda
ルワンダ
ru wan da / ruwanda
Traveler
Wanderer
Vagabond
Rolling Stone
行旅
kou ryo / kouryo / ko ryo / koryo
xíng lǚ / xing2 lv3 / xing lv / xinglv
hsing lü / hsinglü
Wanda
旺達

---

旺达
wàng dá / wang4 da2 / wang da / wangda
wang ta / wangta
Wanda
ワンダ
wanda
Immortal
仙
sento / sen
xiān / xian1 / xian
hsien
Ronin
Masterless Samurai
浪人
rou nin / rounin / ro nin / ronin
làng rén / lang4 ren2 / lang ren / langren
lang jen / langjen
Taekwondo
跆拳道
te kon do / tekondo
tái quán dào

---

tai2 quan2 dao4

---

tai quan dao

---

taiquandao
t`ai ch`üan tao

---

taichüantao

---

tai chüan tao
Wave
波浪
harou / haro
bō làng / bo1 lang4 / bo lang / bolang
po lang / polang
In some entries above you will see that characters have different versions above and below a line.
In these cases, the characters above the line are Traditional Chinese, while the ones below are Simplified Chinese.
Successful Chinese Character and Japanese Kanji calligraphy searches within the last few hours...
All of our calligraphy wall scrolls are handmade.
When the calligrapher finishes creating your artwork, it is taken to my art mounting workshop in Beijing where a wall scroll is made by hand from a combination of silk, rice paper, and wood.
After we create your wall scroll, it takes at least two weeks for air mail delivery from Beijing to you.
Allow a few weeks for delivery. Rush service speeds it up by a week or two for $10!
When you select your calligraphy, you'll be taken to another page where you can choose various custom options.
Check out my lists of Japanese Kanji Calligraphy Wall Scrolls and Old Korean Hanja Calligraphy Wall Scrolls.
Some people may refer to this entry as Wand Kanji, Wand Characters, Wand in Mandarin Chinese, Wand Characters, Wand in Chinese Writing, Wand in Japanese Writing, Wand in Asian Writing, Wand Ideograms, Chinese Wand symbols, Wand Hieroglyphics, Wand Glyphs, Wand in Chinese Letters, Wand Hanzi, Wand in Japanese Kanji, Wand Pictograms, Wand in the Chinese Written-Language, or Wand in the Japanese Written-Language.