Not what you want?
Try searching again using:
1. Other similar-meaning words.
2. Fewer words or just one word.
To Rise in Chinese / Japanese...
Buy a To Rise calligraphy wall scroll here!
Start your custom "To Rise" project by clicking the button next to your favorite "To Rise" title below...

fèng huáng niè pán

This proverb suggests "Legendary Phoenix rises from the ashes." Literally, it means, "Legendary Phoenix [reaches] Nirvana."

There is a legend in China of a great bird which is reborn once every 500 years. This bird gathers all the ill-will, suffering, desire, and other negative things of the whole world. The bird then plunges into the fire to burn away all negative things, sacrificing itself in the process (achieving Nirvana, or perhaps allowing others the opportunity to reach Nirvana).

500 years later, the phoenix is reborn from the ashes again, and the cycle repeats.

chāo yuè

chou etsu

초월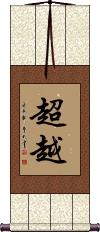 In Chinese, Japanese Kanji and old Korean Hanja, this means overcome, surpass, transcendence, excel, to exceed, go beyond, to rise above, or to transcend.

ei ko sei sui

영고성쇠
This Japanese proverb can be translated as, "flourish and wither, prosper and perish," "life is full of fortune and misfortune," or simply "vicissitudes of life."

This is about the rise and fall of human affairs or the ups and downs of life. Prosperity comes and goes, everything is fleeting and temporary but like waves, another swell of prosperity may come.

Here's how the Kanji break down in this proverb:

栄 = prosper; thrive; flourish; boom.
枯 = wither; die.
盛 = prosperous; flourishing; thriving; successful; energetic; vigorous; enthusiastic.
衰 = become weaker; decline; get weak; die down; subside; abate; fail.
---

Notes: The original version of the first character looks like the image to the right. In modern Japan, they simplified that Kanji a bit into the version shown above. If you have a preference for which style is used for your calligraphy, please let me know when you place your order.

Apparently, with that original version of the first character, this is also used in Korean Hanja. However, I have not confirmed that it's used in the same way or is widely-known in Korean.

sittpai wa seikou no moto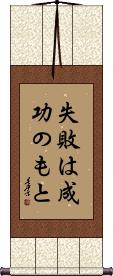 This Japanese proverb literally reads, "failures/mistakes/blunders are the yeast-starter/yeast-mash of success."

Basically, it suggests that failures are a necessary part of success; Just as bread or beer requires yeast to successfully rise or brew/ferment.
---
Note: Because this selection contains some special Japanese Hiragana characters, it should be written by a Japanese calligrapher.

dōng shān zài qǐ

This Chinese proverb means, "make a comeback," or "resuming after a failure." It's sometimes used in terms of losing a job and then getting it back. However, it applies to any kind of comeback after difficulty.

The literal meaning of this Chinese idiom is, "[The] Eastern Mountain Again [will] Rise."

shichi ten hakki / nana korobi ya oki

칠전팔기

This Japanese proverb relays the vicissitudes of life, with the meaning "seven times down eight times up."

Some would more naturally translate it into English as "Always rising after a fall or repeated failures" or compare it to the English, "If at first you don't succeed, try, try again."

The first Kanji is literally "7." The second means "fall down" (sometimes this Kanji means "turn around," "revolve" or "turn over" but in this case, it holds the meaning of "fall"). The third is "8." And the last is "get up," "rouse," or "rise."

Basically, if you fail 7 times, you should recover from those events and be prepared to rise an 8th time. This also applies if it is the world or circumstances that knock you down seven times...
...just remember that you have the ability to bounce back from any kind of adversity.

Note: This can be pronounced two ways. One is "shichi ten hakki" or "shichitenhakki." The other is "nana korobi ya oki" also written, "nanakorobi-yaoki."

Special Note: The second character is a Kanji that is not used in China. Therefore, please only select our Japanese master calligrapher for this selection.
Search for To Rise in my Japanese & Chinese Dictionary
This in-stock artwork might be what you are looking for, and ships right away...
Gallery Price: $50.00
Your Price: $24.95
Gallery Price: $88.00
Your Price: $48.88
Gallery Price: $88.00
Your Price: $48.88
The following table may be helpful for those studying Chinese or Japanese...
Title
Characters
Romaji

(Romanized Japanese)

Various forms of Romanized Chinese
Phoenix Rise from the Ashes
鳳凰涅磐

---

凤凰涅磐
fèng huáng niè pán

---

feng4 huang2 nie4 pan2

---

feng huang nie pan

---

fenghuangniepan
feng huang nieh p`an

---

fenghuangniehpan

---

feng huang nieh pan
Overcome
Surpass
Rise Above
超越
chou etsu / chouetsu / cho etsu / choetsu
chāo yuè / chao1 yue4 / chao yue / chaoyue
ch`ao yüeh / chaoyüeh / chao yüeh
Rise and Fall
Ups and Downs
栄枯盛衰 / 榮枯盛衰

---

荣枯盛衰
ei ko sei sui

---

eikoseisui
Tomorrow
The Next Sun
明日
ashita / meibi
míng rì / ming2 ri4 / ming ri / mingri
ming jih / mingjih
Failure is a Stepping Stone to Success
失敗は成功のもと
sittpai wa seikou no moto

---

sittpaiwaseikounomoto

---

sittpai wa seiko no moto

---

sittpaiwaseikonomoto
Bounce Back
Stage a Comeback
東山再起

---

东山再起
dōng shān zài qǐ

---

dong1 shan1 zai4 qi3

---

dong shan zai qi

---

dongshanzaiqi
tung shan tsai ch`i

---

tungshantsaichi

---

tung shan tsai chi
Flying
Flight
Rising Upward
飛揚

---

飞扬
hi you / hiyou / hi yo / hiyo
fēi yáng / fei1 yang2 / fei yang / feiyang
Fall Down Seven Times, Get Up Eight
七転八起
shichi ten hakki / nana korobi ya oki

---

shichi ten haki / nana korobi ya oki

---

shichitenhaki/nanakorobiyaoki
In some entries above you will see that characters have different versions above and below a line.
In these cases, the characters above the line are Traditional Chinese, while the ones below are Simplified Chinese.
Successful Chinese Character and Japanese Kanji calligraphy searches within the last few hours...
All of our calligraphy wall scrolls are handmade.
When the calligrapher finishes creating your artwork, it is taken to my art mounting workshop in Beijing where a wall scroll is made by hand from a combination of silk, rice paper, and wood.
After we create your wall scroll, it takes at least two weeks for air mail delivery from Beijing to you.
Allow a few weeks for delivery. Rush service speeds it up by a week or two for $10!
When you select your calligraphy, you'll be taken to another page where you can choose various custom options.
Check out my lists of Japanese Kanji Calligraphy Wall Scrolls and Old Korean Hanja Calligraphy Wall Scrolls.
Some people may refer to this entry as To Rise Kanji, To Rise Characters, To Rise in Mandarin Chinese, To Rise Characters, To Rise in Chinese Writing, To Rise in Japanese Writing, To Rise in Asian Writing, To Rise Ideograms, Chinese To Rise symbols, To Rise Hieroglyphics, To Rise Glyphs, To Rise in Chinese Letters, To Rise Hanzi, To Rise in Japanese Kanji, To Rise Pictograms, To Rise in the Chinese Written-Language, or To Rise in the Japanese Written-Language.
people have searched for To Rise in Chinese or Japanese in the past year.
To Rise was last searched for by someone else on Jan 1st, 1970