Not what you want?
Try searching again using:
1. Other similar-meaning words.
2. Fewer words or just one word.

If all else fails, email me and
tell me what you need.
Talk in Chinese / Japanese...
Buy a Talk calligraphy wall scroll here!
Start your custom "Talk" project by clicking the button next to your favorite "Talk" title below...

zhèng yǔ

sei go

정어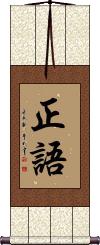 正語 is one of the Noble Eightfold Paths of Buddhism. Right Speech, along with Right Action and Right Living constitute the path to Virtue.

Simply stated, Right Speech is abstaining from lying, abstaining from divisive speech, abstaining from abusive speech, abstaining from idle chatter, abstaining from slander, abstaining from gossip, or any form of harmful or wrong speech.
---
This term is exclusively used by devout Buddhists. It is not a common term, and is remains an unknown concept to most Japanese and Chinese people.
---
See Also: Buddhism | Enlightenment | Noble Eightfold Path

yīn yuán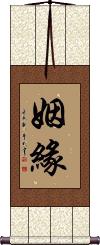 These two characters mean, "Destiny that brings lovers together." It can also be translated technically as, "Predestined matrimonial affinity" (wow, talk about taking the romance out of this word - that was from the Oxford C-E dictionary).

Basically, this is talking about the fate (or karma) that brings a husband and wife together. I would translate this as "Together by fate" or "Joined by destiny" but in the context of marriage. You could use this for non-married lovers but the first character has a suggestion that this refers to those that are married.

dà jiǎn hóng tú

This four-character proverb is used in Chinese to mean "realize your ambitions" or "exhibit your ambition and success." It's used to talk about someone with great career ambitions. Almost literally, it expresses the idea of someone unfolding a great career like a map or a set of blueprint plans.

Very literally translated, these four characters mean, "Great unfolding of a huge map" or "Great exhibition of an colossal plan."

yī yán jiǔ dǐng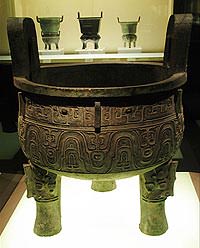 一言九鼎 is an ancient Chinese proverb used in modern times talk of profound or powerful words.

The literal meaning is, "one word [worth] nine [sacred] tripods." The tripod is a highly-prized three-legged (sometimes four-legged) metal pot or kettle of ancient China. They are often made of bronze, and the Emperor would have very large ones gilded in gold. See the image to the right for an example.

huā sà

These two characters mean flower fall (closes and loses its petals). It suggests nearing the end of something. A time that some might call "The sunset of life." 花落 often follows "flower open" to talk of the cycle of life.

We offer this as a possible companion to a "flower open" scroll (to be placed side by side, or at either side of a doorway to say "things come and go" - a cool metaphor for a doorway). If placed in a doorway, it could be used as a suggestion to your guests that things bloom when they arrive through your door but wither when they leave (a great compliment).
---
See Also: Flowers Bloom

yī qī yī huì

ichigoichie

일기일회

This Japanese title can be translated as "for this time only," "chance meeting," "one meeting, one opportunity," "never again," or "one chance in a lifetime."

The characters literally mean "one time one meeting" - of course, the Kanji characters have meaning far beyond a direct translation like this.

Some might use this proverb to talk of an opportunity that presents itself just once in your life. It could also be the single chance-meeting with your true soul mate. Basically an expression for any event that might happen once in a lifetime.
---
This is primarily a Japanese title, however, there is also a Traditional Chinese (and old Korean) version of this proverb. Just the last character is different.


The traditional form was used in Japan before WWII and in Korea prior to 1900. This title is somewhat known in China.

If you want the older traditional form, just click on the character to the right.

zhèng jiàn zhèng sī wéi zhèng yǔ zhèng yè zhèng mìng zhèng jīng jìn zhèng niàn zhèng dìng

shouken shoushiyui shougo shougo shoumyou shoushoujin shounen shoujou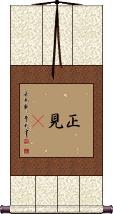 These are the eight tenets of the Buddhist Noble Eightfold Path written altogether.

Here's this list of tenets in English:
1. Right View / Right Understanding / Right Perspective / Perfect View
2. Right Resolve / Right Thought / Right Intention / Perfect Resolve
3. Right Speech / Right Talk / Perfect Speech
4. Right Action / Perfect Conduct
5. Right Living / Right Livelihood / Perfect Livelihood
6. Right Effort / Right Endeavor / Perfect Effort
7. Right Mindfulness / Right Memory / Perfect Mindfulness
8. Right Concentration / Perfect Concentration

wǔ shì dào

bu shi do

무사도

武士道 is the title for, "The Code of the Samurai."

Sometimes called "The Seven Virtues of the Samurai," "The Bushido Code," or "The Samurai Code of Chivalry."

This would be read in Chinese characters, Japanese Kanji, and old Korean Hanja as "The Way of the Warrior," "The Warrior's Way," or "The Warrior's Code."

It's a set of virtues that the Samurai of Japan and ancient warriors of China and Korea had to live and die by. However, while known throughout Asia, this title is mostly used in Japan, and thought of as being of Japanese origin.

The seven commonly-accepted tenets or virtues of Bushido are: Benevolence 仁, Courage 勇, Honesty 誠, Honour 名誉, Loyalty 忠実, Respect 礼(禮), and Rectitude 義. These tenets were part of an oral history for generations, thus, you will see variations in the list Bushido tenets depending on who you talk to.
---
See our page with just Code of the Samurai / Bushido here
---
Many custom options...




And formats...



The following table may be helpful for those studying Chinese or Japanese...
Title
Characters
Romaji

(Romanized Japanese)

Various forms of Romanized Chinese
3. Right Speech
Right Talk
Perfect Speech
正語

---

正语
sei go / seigo
zhèng yǔ / zheng4 yu3 / zheng yu / zhengyu
cheng yü / chengyü
Gentleness
溫柔

---

温柔
wēn róu / wen1 rou2 / wen rou / wenrou
wen jou / wenjou
The Karma/Fate/Destiny / that Brings Lovers Together
姻緣

---

姻缘
yīn yuán / yin1 yuan2 / yin yuan / yinyuan
yin yüan / yinyüan
Realize Your Ambitions
Ride on the Crest of Success
大展宏圖

---

大展宏图
dà jiǎn hóng tú

---

da4 jian3 hong2 tu2

---

da jian hong tu

---

dajianhongtu
ta chien hung t`u

---

tachienhungtu

---

ta chien hung tu
Words Have Enormous Weight
One Word Worth Nine Caldrons
一言九鼎
yī yán jiǔ dǐng

---

yi1 yan2 jiu3 ding3

---

yi yan jiu ding

---

yiyanjiuding
i yen chiu ting

---

iyenchiuting
Flowers Fall
The End Comes
花落
huā sà / hua1 luo4 / hua luo / hualuo
hua lo / hualo
Once in a Lifetime
一期一會

---

一期一会
ichigoichie
yī qī yī huì

---

yi1 qi1 yi1 hui4

---

yi qi yi hui

---

yiqiyihui
i ch`i i hui

---

ichiihui

---

i chi i hui
All Tenets of the Noble Eightfold Path
正見正思唯正語正業正命正精進正念正定

---

正见正思唯正语正业正命正精进正念正定
shouken shoushiyui shougo shougo shoumyou shoushoujin shounen shoujou

---

shoken shoshiyui shogo shogo shomyo shoshojin shonen shojo

---

shokenshoshiyuishogoshogoshomyoshoshojinshonenshojo
zhèng jiàn zhèng sī wéi zhèng yǔ zhèng yè zhèng mìng zhèng jīng jìn zhèng niàn zhèng dìng

---

zheng4 jian4 zheng4 si1 wei2 zheng4 yu3 zheng4 ye4 zheng4 ming4 zheng4 jing1 jin4 zheng4 nian4 zheng4 ding4

---

zheng jian zheng si wei zheng yu zheng ye zheng ming zheng jing jin zheng nian zheng ding
cheng chien cheng ssu wei cheng yü cheng yeh cheng ming cheng ching chin cheng nien cheng ting
Bushido
The Way of the Samurai
武士道
bu shi do / bushido
wǔ shì dào

---

wu3 shi4 dao4

---

wu shi dao

---

wushidao
wu shih tao

---

wushihtao
In some entries above you will see that characters have different versions above and below a line.
In these cases, the characters above the line are Traditional Chinese, while the ones below are Simplified Chinese.
Successful Chinese Character and Japanese Kanji calligraphy searches within the last few hours...
All of our calligraphy wall scrolls are handmade.
When the calligrapher finishes creating your artwork, it is taken to my art mounting workshop in Beijing where a wall scroll is made by hand from a combination of silk, rice paper, and wood.
After we create your wall scroll, it takes at least two weeks for air mail delivery from Beijing to you.
Allow a few weeks for delivery. Rush service speeds it up by a week or two for $10!
When you select your calligraphy, you'll be taken to another page where you can choose various custom options.
Check out my lists of Japanese Kanji Calligraphy Wall Scrolls and Old Korean Hanja Calligraphy Wall Scrolls.
Some people may refer to this entry as Talk Kanji, Talk Characters, Talk in Mandarin Chinese, Talk Characters, Talk in Chinese Writing, Talk in Japanese Writing, Talk in Asian Writing, Talk Ideograms, Chinese Talk symbols, Talk Hieroglyphics, Talk Glyphs, Talk in Chinese Letters, Talk Hanzi, Talk in Japanese Kanji, Talk Pictograms, Talk in the Chinese Written-Language, or Talk in the Japanese Written-Language.
6 people have searched for Talk in Chinese or Japanese in the past year.
Talk was last searched for by someone else on Jan 11th, 2018