Need Help?
Questions answered
personally by the boss.
Not what you're looking for?
Maybe try to search again using:
1. Other similar-meaning words.
2. Fewer words or just one word.
Tae Kwon Do in Chinese / Japanese...
Buy a Tae Kwon Do calligraphy wall scroll here!
Start your custom "Tae Kwon Do" project by clicking the button next to your favorite "Tae Kwon Do" title below...

tái quán dào

te kon do

태권도
 
 
 
This is one of the most widespread types of martial arts in the world as well as being an Olympic sport. Taekwondo was born in Korea with influences of Chinese and Japanese styles, combined with traditional Korean combat skills. Some will define it as the "Korean art of empty-handed self-defense".

In the simplest translation, the first character means "kick", the second character can mean either "fist" or "punching" the third means "way" or "method". Altogether, you could say this is "Kick Punch Method". When heard or read in various Asian languages, all will automatically think of this famous Korean martial art. It is written the same in Japanese Kanji, Chinese, and Korean Hanja characters - so the appearance of the characters are rather universal. However, you should note that there is another way to write this in modern Korean Hangul characters which looks like the image to the right.



We suggest the original Korean Hanja (Chinese characters) for a wall scroll, but if you really need the Hangul version, you must use master calligrapher Xing An-Ping: Order Taekwondo in Korean Hangul
Note: Taekwondo is sometimes Romanized as Tae-Kwondo, Tae Kwon Do, Taekwon-do, Taegwondo, Tae Gweon Do, Tai Kwon Do, Taikwondo, Taekwando, Tae Kwan Do and in Chinese Taiquandao, Tai Quan Dao, Taichuando, or Tai Chuan Tao.

tái quán dào jīng shén lǐ yì lián chǐ rěn nài kè jǐ bǎi zhé bù qū

태권도정신예의염치인내극기백절불굴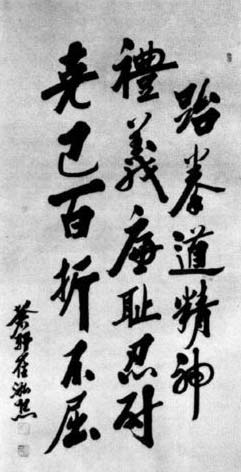 This is General Choi's writing that is often called "The Tenets of Taekwon-do". The actual title would be translated as, "Taekwondo Spirit" or "The Spirit of Taekwondo". It was originally written in Korean Hanja (Chinese characters used in Korea for about 1600 years).

General Choi's original calligraphy is shown to the right. Your custom calligraphy will be unique, and not an exact match, as each calligrapher has their own style.

In modern times, the common form of written Korean is Hangul (a phonetic character set). The table below shows the text in Hangul and Hanja along with a pronunciation guide and a brief English translation:


Traditional Korean Hanja
Modern Korean Hangul
Pronunciation
English
跆拳道精神
태권도정신
tae gweon do jeong sin
Taekwondo Spirit
禮儀
예의 or 례이
ye yi
Courtesy / Etiquette / Propriety / Decorum / Formality
廉耻
렴치 or 염치
yeom ci
Integrity / Sense of Honor
忍耐
인내
in nae
Patience / Perseverance / Endurance
克己
극기
geug gi
Self-Control / Self-Denial / Self-Abnegation
百折不屈
백절불굴
baeg jeor bur gur
Indomitable Spirit (Undaunted even after repeated attacks from the opponent)
Note that the pronunciation is the official version now used in South Korea. However, it is different than what you may be used to. For instance, "Taekwon-do" is "tae gweon do". This new romanization is supposed to be closer to actual Korean pronunciation.

tái quán dào jīng shen

te kon do sei shin

태권도정신
 
 
 
This title means, "Taekwondo Spirit" or "The Spirit of Taekwondo". This is the title of General Choi's calligraphy often referred to as "The Tenets of Taekwon-do".
Not the results for tae kwon do that you were looking for?
Below are some entries from our dictionary that may match your tae kwon do search...
Character Images
Characters / Kanji
If shown, second row is Simplified Chinese
Pronunciation
Romanization
Simple Dictionary Definition
   
see styles
て拳道

tekondoo

てこんどー



(kana only) Tae Kwon Do (kor:)

---

   
see styles
跆拳道
tái quán dào /

tai2 quan2 dao4


t`ai ch`üan tao /

tai chüan tao

Taekwando (Korean martial art); Tae Kwon Do

---

     
see styles
テコンドー

tekondoo

テコンドー



(kana only) Tae Kwon Do (kor:)

---
All of our calligraphy wall scrolls are handmade.
When the calligrapher finishes creating your artwork, it is taken to my art mounting workshop in Beijing where a wall scroll is made by hand from a combination of silk, rice paper, and wood.
After we create your wall scroll, it takes at least two weeks for air mail delivery from Beijing to you.
Allow a few weeks for delivery. Rush service speeds it up a week or two for $10!
When you select your calligraphy, you'll be taken to another page where you can choose various custom options.
If your search is not successful, just post your request on our forum, and we'll be happy to do research or translation for any reasonable request.
Successful Chinese Character and Japanese Kanji calligraphy searches within the last few hours...
With so many searches, we had to upgrade to our own Linux server.
Of course, only one in 500 searches results in a purchase - Hey buy a wall scroll!!!
The following table is only helpful for those studying Chinese (or Japanese), and perhaps helps search engines to find this page when someone enters Romanized Chinese or Japanese
Title

Characters

Simplified
Traditional

Japanese Romaji
(Romanized Japanese)
Various forms of Romanized Chinese
Taekwondo
跆拳道
跆拳道
te kon do

---

tekondo< / mark>
tái quán dào

---

tai quan dao

---

t`ai ch`üan tao
tai2 quan2 dao4

---

taiquandao

---

taichüantao

---

tai chüan tao
Taekwondo Tenets / Spirit of Taekwon-do
跆拳道精神礼义廉耻忍耐克己百折不屈
跆拳道精神禮義廉耻忍耐克己百折不屈
n/a
tái quán dào jīng shén lǐ yì lián chǐ rěn nài kè jǐ bǎi zhé bù qū

---

tai quan dao jing shen li yi lian chi ren nai ke ji bai zhe bu qu

---

t`ai ch`üan tao ching shen li i lien ch`ih jen nai k`o chi pai che pu ch`ü
tai2 quan2 dao4 jing1 shen2 li3 yi4 lian2 chi3 ren3 nai4 ke4 ji3 bai3 zhe2 bu4 qu1

---

tai chüan tao ching shen li i lien chih jen nai ko chi pai che pu chü
Spirit of Taekwondo
跆拳道精神
跆拳道精神
te kon do sei shin
tái quán dào jīng shen

---

tai quan dao jing shen

---

t`ai ch`üan tao ching shen
tai2 quan2 dao4 jing1 shen2

---

taiquandaojingshen

---

taichüantaochingshen

---

tai chüan tao ching shen
If you have not set up your computer to display Chinese, the characters in this table probably look like empty boxes or random text garbage.
This is why I spent hundreds of hours making images so that you could view the characters in the "tae kwon do" listings above.
If you want your Windows computer to be able to display Chinese characters you can either head to your Regional and Language options in your Win XP control panel, select the [Languages] tab and click on [Install files for East Asian Languages]. This task will ask for your Win XP CD to complete in most cases. If you don't have your Windows XP CD, or are running Windows 98, you can also download/run the simplified Chinese font package installer from Microsoft which works independently with Win 98, ME, 2000, and XP. It's a 2.5MB download, so if you are on dial up, start the download and go make a sandwich.
Image Use Policy Privacy Policy
Copyright Oriental Outpost 2002-2014 - All Rights Reserved
This page of tae kwon do Chinese calligraphy dictionary search results was generated in 0.0134 seconds.