Not what you want?
Try searching again using:
1. Other similar-meaning words.
2. Fewer words or just one word.
Spiritual in Chinese / Japanese...
Buy a Spiritual calligraphy wall scroll here!
Start your custom "Spiritual" project by clicking the button next to your favorite "Spiritual" title below...

shén

shin / kami

신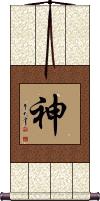 神 is the simplest way to write spirit in Chinese, Japanese Kanji, and old Korean.

This single character alone will conjure up ideas of the spiritual world. 神 can also be translated as "vital awareness" as in the fact that one must know they exist to exist (I think, therefore, I am).

Other translations include:
God, deity, mysterious, divine essence, lively, spiritual being, divinity, supernatural, soul, mind, nerves, and energy. In some extended context it can mean genius or unusual.

Japanese romanizations vary a lot when this character is combined into other words. However, shin is the original pronunciation taken from Chinese into Japanese. You'll also see it romanized as kami, gami, jin, and a few others, depending on context.

jīng shén bàn lǚ

sei shin han ryo

精神伴侶 is title means "Spiritual Soul Mates." The first two characters mean "spiritual" or "soul." The second two characters mean "mates," "companions" or "partners."

精神伴侶 is more about the spiritual connection between partners rather than a "fate-brought-us-together" kind of soul mates.

Both halves of this title have meaning in Japanese but I've not yet confirmed that this is a commonly used title in Japan.

an shin ritsu mei

These Japanese Kanji can be translated as "religious enlightenment" or "spiritual peace gained through faith."

Other dictionaries define as, "spiritual peace and enlightenment" or "keeping an unperturbed mind through faith."

My Buddhist dictionary defines it as, "spiritual peace and realization of enlightenment."

qì

ki

기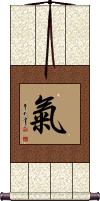 This energy flow is a fundamental concept of traditional Asian culture.

氣 is romanized as "Qi" or "Chi" in Chinese, "Gi" in Korean, and "Ki" in Japanese.
Chi is believed to be part of everything that exists, as in "life force" or "spiritual energy". It is most often translated as "energy flow," or literally as "air" or "breath". Some people will simply translate this as "spirit" but you have to take into consideration the kind of spirit we're talking about. I think this is weighted more toward energy than spirit.

The character itself is a representation of steam (or breath) rising from rice. To clarify, the character for rice looks like this:


Steam was apparently seen as visual evidence of the release of "life energy" when this concept was first developed. The Qi / Chi / Ki character is still used in compound words to mean steam or vapor.
The etymology of this character is a bit complicated. It's suggested that the first form of this character from bronze script (about 2500 years ago) looked like these samples:



However, it was easy to confuse this with the character for the number three. So the rice radical was added by 221 B.C. (the exact time of this change is debated). This first version with the rice radical looks like this:


The idea of Qi / Chi / Ki is really a philosophical concept. It's often used to refer to the "flow" of metaphysical energy that sustains living beings. Yet there is much debate that has continued for thousands of years as to whether Qi / Chi / Ki is pure energy, or consists partially, or fully of matter.

You can also see the character for Qi / Chi / Ki in common compound words such as Tai Chi / Tai Qi, Aikido, Reiki and Qi Gong / Chi Kung.

In the modern Japanese Kanji, the rice radical has been changed into two strokes that form an X.



The original and traditional Chinese form is still understood in Japanese but we can also offer that modern Kanji form in our custom calligraphy. If you want this Japanese Kanji, please click on the character to the right, instead of the "Select and Customize" button above.
---
More language notes: This is pronounced like "chee" in Mandarin Chinese, and like "key" in Japanese.
This is also the same way to write this in Korean Hanja where it is Romanized as "gi" and pronounced like "gee" but with a real G-sound, not a J-sound.
Though Vietnamese no longer use Chinese characters in their daily language, this character is still widely known in Vietnam.
---
See Also: Energy | Life Force | Vitality | Life | Birth | Soul

jīng shén lì liàng

seishin rikiryou

This title speaks of one's soul or spirit, and the capacity or strength that soul possesses.

The first two characters mean mind, heart, spirit, and/or soul.

The last two characters mean strength, capacity, or ability.

Note: Separately, these are two words in Japanese, and can be pronounced but this does not make a natural title in Japanese (best if your audience is Chinese).

líng

ryou

령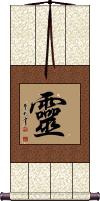 靈 is spirit or soul in Chinese, Japanese Kanji, and old Korean Hanja.

If you look in the dictionary, you'll also find definitions for this character like:
quick; alert; efficacious; effective; departed soul; coffin; spiritual; energy; effective; clever.
---

There is a modern Japanese version of this character. The button above will get you the traditional/ancient form. But, if you want the modern Japanese, click on the Kanji to the right instead.

qì lì

kiryoku

기력

氣力 can mean any of the words in the title above, and in some context, can also mean, effort, will-power, or talent. 氣力 refers mostly to physical strength (as opposed to mental or spiritual).
---

In modern Japan, they use a simplified first character for this word. If you want to order this title with that special Japanese version, click on the character to the right instead of the button above.

tamashii no tomo

魂の友 is one of a few ways to write "Soul Mates" in Japanese.

The first Kanji means soul, spirit, ghost, immortal soul, the mind, or conscious mind. From Sanskrit it's Vijñāna.

The middle character is a Japanese Hiragana connecting or possessive article that links the two ideas together.

The last Kanji means friends or friendship.
Search for Spiritual in my Japanese & Chinese Dictionary
This in-stock artwork might be what you are looking for, and ships right away...
Gallery Price: $132.00
Your Price: $72.88
Gallery Price: $132.00
Your Price: $72.88
The following table may be helpful for those studying Chinese or Japanese...
Title
Characters
Romaji

(Romanized Japanese)

Various forms of Romanized Chinese
Spirit
Spiritual Essence
神
shin / kami
shén / shen2 / shen
Spiritual Warrior
霊戦士
rei sen shi

---

reisenshi
Spiritual Soul Mates
精神伴侶

---

精神伴侣
sei shin han ryo

---

seishinhanryo
jīng shén bàn lǚ

---

jing1 shen2 ban4 lv3

---

jing shen ban lv

---

jingshenbanlv
ching shen pan lü

---

chingshenpanlü
Spiritual Peace
Enlightened Peace
安心立命
an shin ritsu mei

---

anshinritsumei
Life Energy
Spiritual Energy
氣

---

气 / 気
ki
qì / qi4 / qi
ch`i / chi
Spiritual Strength
Strength of Spirit
精神力量
seishin rikiryou

---

seishinrikiryou

---

seishin rikiryo

---

seishinrikiryo
jīng shén lì liàng

---

jing1 shen2 li4 liang4

---

jing shen li liang

---

jingshenliliang
ching shen li liang

---

chingshenliliang
Spirit
Soul
靈

---

灵
ryou / ryo
líng / ling2 / ling
Strength
Vigor
Energy
氣力

---

气力 / 気力
kiryoku
qì lì / qi4 li4 / qi li / qili
ch`i li / chili / chi li
Soul Mates
魂の友
tamashii no tomo

---

tamashiinotomo

---

tamashi no tomo

---

tamashinotomo
In some entries above you will see that characters have different versions above and below a line.
In these cases, the characters above the line are Traditional Chinese, while the ones below are Simplified Chinese.
Successful Chinese Character and Japanese Kanji calligraphy searches within the last few hours...
All of our calligraphy wall scrolls are handmade.
When the calligrapher finishes creating your artwork, it is taken to my art mounting workshop in Beijing where a wall scroll is made by hand from a combination of silk, rice paper, and wood.
After we create your wall scroll, it takes at least two weeks for air mail delivery from Beijing to you.
Allow a few weeks for delivery. Rush service speeds it up by a week or two for $10!
When you select your calligraphy, you'll be taken to another page where you can choose various custom options.
Check out my lists of Japanese Kanji Calligraphy Wall Scrolls and Old Korean Hanja Calligraphy Wall Scrolls.
Some people may refer to this entry as Spiritual Kanji, Spiritual Characters, Spiritual in Mandarin Chinese, Spiritual Characters, Spiritual in Chinese Writing, Spiritual in Japanese Writing, Spiritual in Asian Writing, Spiritual Ideograms, Chinese Spiritual symbols, Spiritual Hieroglyphics, Spiritual Glyphs, Spiritual in Chinese Letters, Spiritual Hanzi, Spiritual in Japanese Kanji, Spiritual Pictograms, Spiritual in the Chinese Written-Language, or Spiritual in the Japanese Written-Language.