Not what you want?
Try searching again using:
1. Other similar-meaning words.
2. Fewer words or just one word.
Self Respect in Chinese / Japanese...
Buy a Self Respect calligraphy wall scroll here!
Start your custom "Self Respect" project by clicking the button next to your favorite "Self Respect" title below...

zì zūn

jison

자존

自尊 means self-respect or self-esteem in Chinese, Korean and Japanese. It can also mean "pride in oneself."

Note: Japanese sometimes put the character for heart after these two. However, this two-character word is universal between all three languages (which is often better since more than a third of the world's population can read this version as a native word).

zì zūn xīn

ji son shin

자존심

This Japanese and Korean word means "pride" or "self-respect."

The first Kanji/Hanja means oneself. The second can mean revered, valuable, precious, noble or exalted. And the last Kanji/Hanja means heart, mind and/or spirit.
---
While these characters make sense and hold the same general meaning in Chinese, this is not a normal Chinese word. This selection should only be used if your audience is Japanese or Korean.
---
See Also: Respect | Pride | Self-Reliance | Self-Control | Self-Discipline

zì zūn

chi juen

jison

자존

自尊 can mean "pride," "self-respect" or "self-esteem." The first character means "oneself" and the second can mean revered, valuable, precious, noble, exalted, honorable or simply "pride."

I have also seen this two-character word translated as "amour propre," self-regard, and self-pride.

自尊 is universal between Chinese, Japanese Kanji, and Korean Hanja written languages. It may also be understood in old Vietnamese (they once used Chinese characters as well).

zì ài

ji ai

This title means: self-love; self-regard; regard for oneself; to cherish one's good name; taking care of oneself.

In Buddhist context, this is the cause of all pursuit or seeking, which in turn causes all suffering. All Buddhas discharge themselves from self-love and all pursuits of personal gratification. Such elimination of self-love is a step towards nirvāṇa.

This title can be taken as positive or negative, depending on how you read it. Some will see it as arrogant, others will read it as a token of self-respect. Because of this ambiguity, I do not recommend this title for a wall scroll.

dōng fāng zì zūn

dung fong chi juen

tou hou zi son

동방자존

東方自尊 is the most universal way to write "Asian Pride."

We worked on this one for a long time. The effort involved both Chinese and Japanese translators and lengthy discussions. If you have been searching for this term, there is a reason that it's hard to find the way to write "Asian Pride" in Chinese and Japanese - it's because of the inherent difficulties in figuring out a universal combination of characters that can be read in all languages that use forms of Chinese characters.

This final solution that you see to the left creates a reasonable title in Chinese, and an exotic (perhaps unusual) title in Japanese (This could be read as "Eastern Self-Respect" in Japanese").
Although not as natural, it does have the same meaning in Korean Hanja and the older-generation of Vietnamese people will be able to read it too.

The first two characters literally mean "Oriental" and the second two mean "pride," "self-esteem," or "self-respect" (we chose the most non-arrogant way to say "pride"). If you have "Asian Pride" (sometimes spelled Asian Pryde) these are the characters for you.

Note: For those of you that wonder, there is nothing technically wrong with the word "Oriental." It is a correct word, and any bad meanings were created by so-called "Asian Americans" and Caucasians in the United States. To say "Asian" would not completely correct to the intended meaning, since that would include people from Saudi Arabia, Iraq, Iran, India, and portions of Russia.

For further proof, if you were of East Asian ancestry and born in England, you would be known as a "British Oriental" (The "Oriental stigma" is basically an American creation and, therefore, applies mostly to the American English language - where they get a bit overzealous with political correctness).

Further, since the Chinese and Japanese word for Oriental is not English, it can not be construed having ill-meaning. One trip to China or Japan, and you will find many things titled with these two characters such as malls, buildings, and business names. These places also use "Oriental" as their English title (much as we do, since our Chinese business name starts with these same two characters).

In short, the first two character have the meaning that Americans attach to "Asian" but is more technically correct.

zhèng zhí

shoujiki

정직

Integrity is living by your highest values. It is being honest and sincere. Integrity helps you to listen to your conscience, to do the right thing, and to tell the truth. You act with integrity when your words and actions match. Integrity gives you self-respect and a peaceful heart.



Please note that the second Kanji sometimes has an alternate form in Japanese. Let us know if you want the alternate form shown to the right.

Note: This entry is cross-listed as "honesty" because it also fits that definition.
---
Beyond Integrity, this word also means "upright" and "honest" in Chinese. Means "integrity," "honesty" or "frankness" in Japanese.
---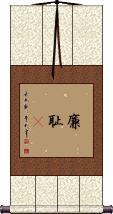 These are the tenets of Tang Soo Do...
| | | | |
| --- | --- | --- | --- |
| English | Old Hanja | Modern Hangul | Pronunciation |
| 1. Integrity | 廉耻 | 렴치 or 염치 | yeom ci |
| 2. Concentration | 精進 | 정진 | jeong jin |
| 3. Perseverence | 忍耐 | 인내 | in nae |
| 4. Respect & Obedience | 遵守 | 준수 | jun su |
| 5. Self-Control | 克己 | 극기 | geug gi |
| 6. Humility | 謙遜 | 겸손 | gyeom son |
| 7. Indomitable Spirit | 百折不屈 | 백절불굴 | baeg jeor bur gur |
After some research, it appears this list was compiled in English based on Taekwondo tenets. We filled in a few of the words that did not have a corresponding Hanja or Hangul. If someone else has a better list with characters included, please contact me.
Search for Self Respect in my Japanese & Chinese Dictionary
This in-stock artwork might be what you are looking for, and ships right away...
Gallery Price: $144.00
Your Price: $79.88
Gallery Price: $65.00
Your Price: $39.88
The following table may be helpful for those studying Chinese or Japanese...
Title
Characters
Romaji

(Romanized Japanese)

Various forms of Romanized Chinese
Self-Respect
Self-Esteem
自尊
jison
zì zūn / zi4 zun1 / zi zun / zizun
tzu tsun / tzutsun
Prideful Mind
Self-Respecting Heart
自尊心
ji son shin

---

jisonshin
zì zūn xīn

---

zi4 zun1 xin1

---

zi zun xin

---

zizunxin
tzu tsun hsin

---

tzutsunhsin
Pride
自尊
jison
zì zūn / zi4 zun1 / zi zun / zizun
tzu tsun / tzutsun
Self-Love
Love Yourself
Love Onself
自愛

---

自爱
ji ai / jiai
zì ài / zi4 ai4 / zi ai / ziai
tzu ai / tzuai
Asian Pride
Oriental Pride
Asian Pryde
AZN Pryde
東方自尊

---

东方自尊
tou hou zi son

---

touhouzison

---

to ho zi son

---

tohozison
dōng fāng zì zūn

---

dong1 fang1 zi4 zun1

---

dong fang zi zun

---

dongfangzizun
tung fang tzu tsun

---

tungfangtzutsun
Integrity
正直
shoujiki / shojiki
zhèng zhí

---

zheng4 zhi2

---

zheng zhi

---

zhengzhi
cheng chih

---

chengchih
Tang Soo Do Tenets
廉耻精進忍耐遵守克己謙遜百折不屈 / 廉恥精進忍耐遵守克己謙遜百折不屈

---

廉耻精进忍耐遵守克己谦逊百折不屈
In some entries above you will see that characters have different versions above and below a line.
In these cases, the characters above the line are Traditional Chinese, while the ones below are Simplified Chinese.
Successful Chinese Character and Japanese Kanji calligraphy searches within the last few hours...
All of our calligraphy wall scrolls are handmade.
When the calligrapher finishes creating your artwork, it is taken to my art mounting workshop in Beijing where a wall scroll is made by hand from a combination of silk, rice paper, and wood.
After we create your wall scroll, it takes at least two weeks for air mail delivery from Beijing to you.
Allow a few weeks for delivery. Rush service speeds it up by a week or two for $10!
When you select your calligraphy, you'll be taken to another page where you can choose various custom options.
Check out my lists of Japanese Kanji Calligraphy Wall Scrolls and Old Korean Hanja Calligraphy Wall Scrolls.
Some people may refer to this entry as Self Respect Kanji, Self Respect Characters, Self Respect in Mandarin Chinese, Self Respect Characters, Self Respect in Chinese Writing, Self Respect in Japanese Writing, Self Respect in Asian Writing, Self Respect Ideograms, Chinese Self Respect symbols, Self Respect Hieroglyphics, Self Respect Glyphs, Self Respect in Chinese Letters, Self Respect Hanzi, Self Respect in Japanese Kanji, Self Respect Pictograms, Self Respect in the Chinese Written-Language, or Self Respect in the Japanese Written-Language.