Not what you want?
Try searching again using:
1. Other similar-meaning words.
2. Fewer words or just one word.
Reflection in Chinese / Japanese...
Buy a Reflection calligraphy wall scroll here!
Start your custom "Reflection" project by clicking the button next to your favorite "Reflection" title below...
Quick links to words on this page...

yǐng

kage

영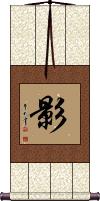 影 means shadow in Chinese, Japanese Kanji, and old Korean Hanja.

Depending on context, this can also mean silhouette, reflection, image, or presence.

fǎn xǐng

hansei / hanse

반성

反省 is the Chinese, Japanese Kanji, and old Korean Hanja means several things including: to reflect upon oneself; to examine one's conscience; to question oneself; to search one's soul; reflection; reconsideration; introspection; meditation; contemplation; regret; repentance; remorse.

zì xǐng

jisei

자성

自省 is the Chinese, Japanese Kanji, and old Korean Hanja means: to examine oneself; to reflect on one's shortcomings; introspection; self-awareness; self-criticism; self-examination; reflection.

In Japanese, this can be the given name, Jisei.

cháng zài hé biān zǒu nǎ néng bù shī xié

This is an old Chinese proverb that is sometimes compared to the English saying "Shit Happens."

It's a reflection that there are risks in life, and you should not be surprised when things don't go your way.

A secondary translation might be, "When walking by a river, often one cannot avoid wet shoes."

niàn

nen

념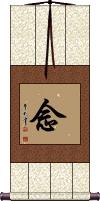 念 is the simplest way to write "mindfulness" in Chinese, Japanese Kanji, and old Korean Hanja.

念 can be defined these ways: To read; to study (a degree course); to read aloud; to miss somebody (keeping them in your mind); idea; remembrance; sense; thought; feeling; desire; concern; attention; recollection; memory; to think on/about; reflect; repeat, intone; a moment.

Obviously, the context in which the character is used determines which definition or meaning is perceived. As a single character, it's open and perhaps ambiguous. Thus, it can be read with any or all of these meanings.

念 is used in a Buddhist context (often written as 正念 or "right mindfulness") with similar meanings of thought and contemplation.

In Japanese, this character is sometimes used as a name "Nen."
---
See Also: Buddhism | Enlightenment

chún qíng

jun jou

순정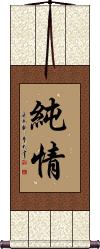 純情 means, "Pure Heart" in Chinese, Japanese Kanji, and old Korean Hanja.

It's used to reflect the ideas of being "pure and innocent."

Depending on the context in which this title is used, it can relay "self-sacrificing devotion" or in some cases, "naïveté."
This would be in the same way we might refer to a young girl giving her lunch money to a beggar on the street. She has a pure and precious heart but perhaps is also a bit naive.

bīng bù xuè rèn

병불혈인

Perhaps a pacifist view or perhaps the best kind of victory; these characters reflect this idea:
The edges of the swords not being stained with blood.

You could also translate it as: Win victory without firing a shot.

The first character means army or force. The second character means without or none. The last two characters mean bloodstained knives. So it represents a returning victorious army without bloodstained knives. This is the very literal sense of this Chinese proverb. The title definition is more accurate to the way this proverb is understood.

Asking yourself why the direct or literal translation is different?
...Think of compound words in English such as "nevertheless" if we break it apart to "never the less" we will have trouble getting the real definition of "in spite of that." Similar things happen when multiple-characters are used to create a compounded word in Chinese.
Search for Reflection in my Japanese & Chinese Dictionary
The following table may be helpful for those studying Chinese or Japanese...
Title
Characters
Romaji

(Romanized Japanese)

Various forms of Romanized Chinese
Keiko
Shadow
Reflection
影子
keiko
yǐng zi / ying3 zi5 / ying zi / yingzi
ying tzu / yingtzu
Shadow
影
kage
yǐng / ying3 / ying
Reflect
反省
hansei / hanse
fǎn xǐng / fan3 xing3 / fan xing / fanxing
fan hsing / fanhsing
Introspection
Self-Awareness
自省
jisei
zì xǐng / zi4 xing3 / zi xing / zixing
tzu hsing / tzuhsing
One who walks by the river
may end up with wet feet
常在河邊走哪能不濕鞋

---

常在河边走哪能不湿鞋
cháng zài hé biān zǒu nǎ néng bù shī xié

---

chang2 zai4 he2 bian1 zou3 na3 neng2 bu4 shi1 xie2

---

chang zai he bian zou na neng bu shi xie
ch`ang tsai ho pien tsou na neng pu shih hsieh

---

chang tsai ho pien tsou na neng pu shih hsieh
Mindfulness
念
nen
niàn / nian4 / nian
nien
Wake Up to Reality
省悟
shō go / shōgo
xǐng wù / xing3 wu4 / xing wu / xingwu
hsing wu / hsingwu
Pure Heart
純情

---

纯情
jun jou / junjou / jun jo / junjo
chún qíng

---

chun2 qing2

---

chun qing

---

chunqing
ch`un ch`ing

---

chunching

---

chun ching
Bloodless Victory
兵不血刃
bīng bù xuè rèn

---

bing1 bu4 xue4 ren4

---

bing bu xue ren

---

bingbuxueren
ping pu hsüeh jen

---

pingpuhsüehjen
In some entries above you will see that characters have different versions above and below a line.
In these cases, the characters above the line are Traditional Chinese, while the ones below are Simplified Chinese.
Successful Chinese Character and Japanese Kanji calligraphy searches within the last few hours...
All of our calligraphy wall scrolls are handmade.
When the calligrapher finishes creating your artwork, it is taken to my art mounting workshop in Beijing where a wall scroll is made by hand from a combination of silk, rice paper, and wood.
After we create your wall scroll, it takes at least two weeks for air mail delivery from Beijing to you.
Allow a few weeks for delivery. Rush service speeds it up by a week or two for $10!
When you select your calligraphy, you'll be taken to another page where you can choose various custom options.
Check out my lists of Japanese Kanji Calligraphy Wall Scrolls and Old Korean Hanja Calligraphy Wall Scrolls.
Some people may refer to this entry as Reflection Kanji, Reflection Characters, Reflection in Mandarin Chinese, Reflection Characters, Reflection in Chinese Writing, Reflection in Japanese Writing, Reflection in Asian Writing, Reflection Ideograms, Chinese Reflection symbols, Reflection Hieroglyphics, Reflection Glyphs, Reflection in Chinese Letters, Reflection Hanzi, Reflection in Japanese Kanji, Reflection Pictograms, Reflection in the Chinese Written-Language, or Reflection in the Japanese Written-Language.