Not what you want?
Try searching again using:
1. Other similar-meaning words.
2. Fewer words or just one word.
Rebirth in Chinese / Japanese...
Buy a Rebirth calligraphy wall scroll here!
Start your custom "Rebirth" project by clicking the button next to your favorite "Rebirth" title below...

lún huí

rinne

윤회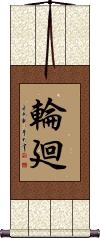 輪廻 is one of a few ways to express संसार or Saṃsāra in Chinese, Japanese, and old Korean.

The Buddhist term can be translated several ways, including:
Endless cycle of death and rebirth.
The turning of the wheel.
To revolve.
Transmigration in the six ways.
The wheel of transmigration.
The round of existence.

fù huó

hukkatsu

부활

復活 is the Chinese, Japanese and Korean word for resurrection or rebirth. Basically this means "return to life."

It is the term used in most Asian Bibles to refer to the resurrection of Christ. In Japanese, it is sometimes used to mean a Christian Revival. In some context it can mean resuscitation.
---
See Also: Christianity | Jesus Christ | God of Abraham

xīn shēng

waka ki

신생

This literally means "new life" or "new birth" in Chinese, Japanese Kanji, and old Korean Hanja.

Depending on context, this word can also mean newborn, new student, rebirth, new birth, nascent.
In Japanese, this can be the given name Wakaki.
---
Note: This is not the most common word selection for a calligraphy wall scroll. But if you're a westerner, you can bend the rules a bit.

fèng huáng niè pán

This proverb suggests "Legendary Phoenix rises from the ashes." Literally, it means, "Legendary Phoenix [reaches] Nirvana."

There is a legend in China of a great bird which is reborn once every 500 years. This bird gathers all the ill-will, suffering, desire, and other negative things of the whole world. The bird then plunges into the fire to burn away all negative things, sacrificing itself in the process (achieving Nirvana, or perhaps allowing others the opportunity to reach Nirvana).

500 years later, the phoenix is reborn from the ashes again, and the cycle repeats.

chóng shēng

중생

重生 is the Chinese word for rebirth. This can be used literally or metaphorically. As a metaphor, you could use this to say something like "We are watching the rebirth of New Orleans after the disaster of Katrina."

重生 is sometimes translated as "renaissance."

Note: 重生 is not the Buddhist concept of reincarnation or re-birth.
---
See Also: Reincarnation

zhuǎn shì

ten sei

전세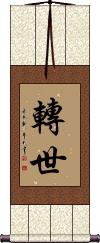 轉世 is the Buddhist idea of reincarnation or transmigration.

Other definitions of this term: "Attainer of Nirvana from within the desire realm," "A practitioner who enters directly into Nirvana from the desire realm, without traversing the form and formless realms. One of the 27 kinds of Hinayana sages," or simply, "to return again to this life."

轉世 is also a Japanese title but the first Kanji was slightly simplified after WWII. Just let us know if you want the modern Japanese version when you order.
---
See Also: Buddhism

lún huí

rin ne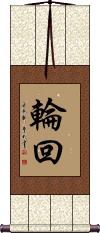 輪回 / 輪廻 is a universal word in Japanese and Chinese that expresses the Buddhist idea of "reincarnation," "transmigration of souls" or "the eternal cycle of birth and death."

In some context, this can also mean "karma," and others will say it represents "samsara."

The first character means wheel, ring, turn, circle, loop or rotate.
The second character can be thought of as a suffix meaning "-times." This second character can also refer to something that revolves, returns, goes back, or a counter for the number of occurrences of some event.
Together the sum supersedes the parts and it means reincarnation. But knowing the seeing the essence of each character may help you understand some of the meaning behind the word.
---

Shown to the right is the more common way to write the second character in Japanese. It's an alternate form of this character in Chinese (so neither way is technically wrong in either language). If you select a Japanese calligrapher, expect that is will look like the Kanji to the right.
---
See Also: Buddhism

lái shì

rai-se

내세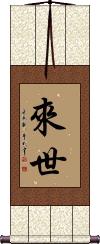 來世 can be used in many different ways. It is often used to express the next life (life in heaven or wherever your soul is bound for). So it does have a religious overtone. However, it can also be used to express your life in the future - perhaps during your present lifetime. It can also be translated as "the next world," "the next generation," "the time that is to come," "otherworld," or simply "posterity."
---
See Also: Eternity | Reincarnation | Immortality
Search for Rebirth in my Japanese & Chinese Dictionary
The following table may be helpful for those studying Chinese or Japanese...
Title
Characters
Romaji

(Romanized Japanese)

Various forms of Romanized Chinese
Samsara
Endless Cycle of Rebirth
輪廻

---

轮廻
rinne
lún huí / lun2 hui2 / lun hui / lunhui
Resurrection
Re-Birth
復活

---

复活
hukkatsu / hukatsu
fù huó / fu4 huo2 / fu huo / fuhuo
New Life
新生
waka ki / wakaki
xīn shēng

---

xin1 sheng1

---

xin sheng

---

xinsheng
hsin sheng

---

hsinsheng
Phoenix Rise from the Ashes
鳳凰涅磐

---

凤凰涅磐
fèng huáng niè pán

---

feng4 huang2 nie4 pan2

---

feng huang nie pan

---

fenghuangniepan
feng huang nieh p`an

---

fenghuangniehpan

---

feng huang nieh pan
Re-Birth
Renaissance
重生
chóng shēng

---

chong2 sheng1

---

chong sheng

---

chongsheng
ch`ung sheng

---

chungsheng

---

chung sheng
Reincarnation (Buddhism)
轉世

---

转世
ten sei / tensei
zhuǎn shì

---

zhuan3 shi4

---

zhuan shi

---

zhuanshi
chuan shih

---

chuanshih
Reincarnation
Transmigration of Souls
輪回 / 輪廻

---

轮回
rin ne / rinne
lún huí / lun2 hui2 / lun hui / lunhui
Eternal Life
Future Life
來世

---

来世
rai-se
lái shì / lai2 shi4 / lai shi / laishi
lai shih / laishih
In some entries above you will see that characters have different versions above and below a line.
In these cases, the characters above the line are Traditional Chinese, while the ones below are Simplified Chinese.
Successful Chinese Character and Japanese Kanji calligraphy searches within the last few hours...
All of our calligraphy wall scrolls are handmade.
When the calligrapher finishes creating your artwork, it is taken to my art mounting workshop in Beijing where a wall scroll is made by hand from a combination of silk, rice paper, and wood.
After we create your wall scroll, it takes at least two weeks for air mail delivery from Beijing to you.
Allow a few weeks for delivery. Rush service speeds it up by a week or two for $10!
When you select your calligraphy, you'll be taken to another page where you can choose various custom options.
Check out my lists of Japanese Kanji Calligraphy Wall Scrolls and Old Korean Hanja Calligraphy Wall Scrolls.
Some people may refer to this entry as Rebirth Kanji, Rebirth Characters, Rebirth in Mandarin Chinese, Rebirth Characters, Rebirth in Chinese Writing, Rebirth in Japanese Writing, Rebirth in Asian Writing, Rebirth Ideograms, Chinese Rebirth symbols, Rebirth Hieroglyphics, Rebirth Glyphs, Rebirth in Chinese Letters, Rebirth Hanzi, Rebirth in Japanese Kanji, Rebirth Pictograms, Rebirth in the Chinese Written-Language, or Rebirth in the Japanese Written-Language.
16 people have searched for Rebirth in Chinese or Japanese in the past year.
Rebirth was last searched for by someone else on Jan 15th, 2017