Not what you want?
Try searching again using:
1. Other similar-meaning words.
2. Fewer words or just one word.

If all else fails, email me and
tell me what you need.
Racing in Chinese / Japanese...
Buy a Racing calligraphy wall scroll here!
Start your custom "Racing" project by clicking the button next to your favorite "Racing" title below...

kuài

yoshi

쾌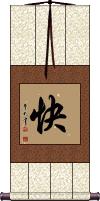 快 is the single character for "fast" in Chinese. This applies to race cars, air planes, rockets, etc.

This can also mean rapid, quick, speed, rate, soon, to make haste, clever, or sharp (of knives or wits). In some context it can mean cheerful or happy.

快 is not a common choice for a wall scroll but if you're a speed freak, this may work for you.
---
Note: In Japanese and Korean, this often just takes the meaning of cheerful or pleasant. It can also be the given name Yoshi in Japanese.

gāo sù

kousoku

고속

高速 means "high speed" or "in high gear" in Chinese and Japanese Kanji. In old Korean Hanja, it also means "high speed" but can also be a nickname for "rapid transit."

高速 is the best selection if you want to say "speed" in regards to your race car, race boat, or lifestyle. You need this word, which literally means "high speed," as the Asian word for "speed" alone does not suggest whether you mean fast or slow.

rén lèi

jinrui

인류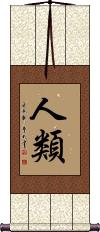 人類 is the way to say mankind or humankind in Chinese. It's kind of the "animal title" for human. 人類 is the word you would use if you said this phrase in Chinese, "Mammals include dolphins, monkeys, dogs, and humans among others."

人類 is a weird selection for a calligraphy wall scroll. But a customer begged me to add this word.

yí shì tóng rén

isshidoujin

일시동인

一視同仁 is how to write "universal benevolence." 一視同仁 is also how to express the idea that you see all people the same.

If you are kind and charitable to all people, this is the best way to state that virtue. It is the essence of being impartial to all mankind, regardless of social standing, background, race, sex, etc. You do not judge others but rather you see them eye to eye on the same level with you.
---
See Also: Benevolence | Compassion | Equality | Justice | Right Decision | Selflessness | Work Unselfishly for the Common

yī sī lán jiào

This both means and sounds like "Islam" in Mandarin Chinese.

The first three characters sound like the word "Islam," and the last character means "religion" or "teaching." It's the most general term for "Islam" in China. The highest concentration of Muslims in China is Xinjiang (the vast region in northwest China that was called The East Turkistan Republic until 1949 and is sometimes called Chinese Turkistan, Uyghuristan). Here you will find Uygurs, Kazakhs, and Kyrgyz and others that are descendants of Turkmen (possibly mixed with Persians and Arabs). Many of their ancestors were traders who traveled the silk road to buy and sell spices, silk, and exchange other goods from the Orient and the Middle East.

I spent some time in Xinjiang and got to know this community. They are strong people who can endure much. They are friendly and love to have a good time. I was a stranger but treated by villagers (near China's border with Afghanistan) as if I was a good friend.
However, I have heard that it's best not to cross them, as in this land, the law is the blade, and everything is "eye for an eye." The Chinese government has little control in Xinjiang with almost no police officers except in the capital of Urumqi (so it's a 60-hour roundtrip train ride to seek the aid of law enforcement in most cases).

While few seem to be devout, there are at least small mosques in every village. And you will never see a man or woman outside without a head covering.

It should be noted that these people are all citizens of China, but they are officially of the Caucasian race. A visit to Xinjiang will change your idea what it means to be Chinese.

dàn bó yǐ míng zhì, níng jìng ér zhì yuǎn

This is a kind of complex ten-character proverb composed by Zhuge Liang about 1800 years ago.

This Chinese proverb means "Leading a simple life will yield a clear mind, and having inner peace will help you see far (into the world)."

What I have translated as "simple life" means NOT being materialistic and NOT competing in the rat race.

The last word means "far" but the deeper meaning is that you will surpass what you can currently see or understand. Perhaps even the idea of opening up vast knowledge and understanding of complex ideas.

The whole phrase has a theme that suggests if you are NOT an aggressive cut-throat person who fights his way to the top no matter how many people he crushes on the way, and instead seek inner peace, you will have a happier existence and be more likely to understand the meaning of life.
---
See Also: Serenity

bù guǎn hēi māo bái māo néng zhuō zhe lǎo shǔ de jiù shì hǎo mǎo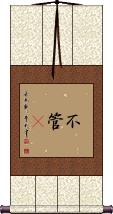 This literally translates as: It doesn't matter [if a] cat [is] black [or] white, [as long as it] can catch mice, it's a good cat.

This proverb was either composed or made famous by Deng XiaoPing in 1961 when he exclaimed, "I don't care if it's a white cat or a black cat. It's a good cat so long as it catches mice" when his critics pointed out that his ideas were Capitalistic (free market). The response was meant to say, "It does not matter if it's Communist or Capitalist, as long as it works."

This Chinese proverb can be used to suggest one should disregard looks or a person's race, as long as they can do the job. It can also be used as a metaphor for many other situations.
---
Deng XiaoPing probably saved China from collapse (as the Soviet Union experienced). He changed China's economy from pure Communism to a hybrid where the free market (Capitalism) is encouraged. More about Deng XiaoPing
Many custom options...




And formats...



The following table may be helpful for those studying Chinese or Japanese...
Title
Characters
Romaji

(Romanized Japanese)

Various forms of Romanized Chinese
Fast
快
yoshi
kuài / kuai4 / kuai
k`uai / kuai
Speed
高速
kousoku / kosoku
gāo sù / gao1 su4 / gao su / gaosu
kao su / kaosu
Human Race
Humanity
Mankind
人類

---

人类
jinrui
rén lèi / ren2 lei4 / ren lei / renlei
jen lei / jenlei
Running
賽跑

---

赛跑
sài pǎo / sai4 pao3 / sai pao / saipao
sai p`ao / saipao / sai pao
Impartial and Fair to the
Brotherhood and Sisterhood of the World
一視同仁

---

一视同仁
isshidoujin

---

ishidojin
yí shì tóng rén

---

yi2 shi4 tong2 ren2

---

yi shi tong ren

---

yishitongren
i shih t`ung jen

---

ishihtungjen

---

i shih tung jen
Islam
伊斯蘭教

---

伊斯兰教
yī sī lán jiào

---

yi1 si1 lan2 jiao4

---

yi si lan jiao

---

yisilanjiao
i ssu lan chiao

---

issulanchiao
Aryan
アーリア人
aariajin / ariajin
A Life of Serenity Yields Understanding
淡泊以明志寧靜而致遠

---

淡泊以明志宁静而致远
dàn bó yǐ míng zhì, níng jìng ér zhì yuǎn

---

dan4 bo2 yi3 ming2 zhi4, ning2 jing4 er2 zhi4 yuan3

---

dan bo yi ming zhi, ning jing er zhi yuan
tan po i ming chih, ning ching erh chih yüan
Black or white cat matters not as long as it can catch mice
不管黑貓白貓能捉著老鼠的就是好貓

---

不管黑猫白猫能捉着老鼠的就是好猫
bù guǎn hēi māo bái māo néng zhuō zhe lǎo shǔ de jiù shì hǎo mǎo

---

bu4 guan3 hei1 mao1 bai2 mao1 neng2 zhuo1 zhe lao3 shu3 de jiu4 shi4 hao3 mao3

---

bu guan hei mao bai mao neng zhuo zhe lao shu de jiu shi hao mao
pu kuan hei mao pai mao neng cho che lao shu te chiu shih hao mao
In some entries above you will see that characters have different versions above and below a line.
In these cases, the characters above the line are Traditional Chinese, while the ones below are Simplified Chinese.
Successful Chinese Character and Japanese Kanji calligraphy searches within the last few hours...
All of our calligraphy wall scrolls are handmade.
When the calligrapher finishes creating your artwork, it is taken to my art mounting workshop in Beijing where a wall scroll is made by hand from a combination of silk, rice paper, and wood.
After we create your wall scroll, it takes at least two weeks for air mail delivery from Beijing to you.
Allow a few weeks for delivery. Rush service speeds it up by a week or two for $10!
When you select your calligraphy, you'll be taken to another page where you can choose various custom options.
Check out my lists of Japanese Kanji Calligraphy Wall Scrolls and Old Korean Hanja Calligraphy Wall Scrolls.
Some people may refer to this entry as Racing Kanji, Racing Characters, Racing in Mandarin Chinese, Racing Characters, Racing in Chinese Writing, Racing in Japanese Writing, Racing in Asian Writing, Racing Ideograms, Chinese Racing symbols, Racing Hieroglyphics, Racing Glyphs, Racing in Chinese Letters, Racing Hanzi, Racing in Japanese Kanji, Racing Pictograms, Racing in the Chinese Written-Language, or Racing in the Japanese Written-Language.
4 people have searched for Racing in Chinese or Japanese in the past year.
Racing was last searched for by someone else on Dec 1st, 2016