Not what you want?
Try searching again using:
1. Other similar-meaning words.
2. Fewer words or just one word.
Ill in Chinese / Japanese...
Buy an Ill calligraphy wall scroll here!
Start your custom "Ill" project by clicking the button next to your favorite "Ill" title below...
Quick links to words on this page...

zhèng sī wéi

sei shi yui

정사유

正思唯 is one of the Noble Eightfold Paths of Buddhism. Right Thought, along with Right View constitute the path to Wisdom.

In Buddhism, Right Thought in simple terms means to free yourself from having ill-will towards anyone or anything. It also suggests that you remain harmless to other living creatures.

This can also be defined as, "Resolve in favor of renunciation, good will, and non-harming of sentient beings."
---

There is an ancient/alternate version of the third character for this selection. You can see that alternation third character to the right. If you want your selection to use that older character, just click on the character to the right, instead of the button above.

Note: This term is exclusively used by devout Buddhists. It is not a common term, and is remains an unknown concept to most Japanese and Chinese people.
---
See Also: Buddhism | Enlightenment

qíng rén

jou nin / jou jin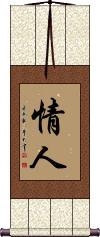 情人 means lover, sweetheart or beloved in Chinese and Japanese Kanji.

This term is gender-neutral, so anyone can use it.

Please note that this term can easily be read or used to mean "mistress" or the kind of lover that you have an affair with (especially in Japanese). The context in which this word is used affects the actual meaning. Husbands and wives or boyfriends and girlfriends can also use this term for each other with no ill-meaning.

fèng huáng niè pán

This proverb suggests "Legendary Phoenix rises from the ashes." Literally, it means, "Legendary Phoenix [reaches] Nirvana."

There is a legend in China of a great bird which is reborn once every 500 years. This bird gathers all the ill-will, suffering, desire, and other negative things of the whole world. The bird then plunges into the fire to burn away all negative things, sacrificing itself in the process (achieving Nirvana, or perhaps allowing others the opportunity to reach Nirvana).

500 years later, the phoenix is reborn from the ashes again, and the cycle repeats.

shino-bi

忍び (Shinobi) is a term often associated with ninjas of ancient Japan.

忍び really means stealing (into), a spy, a sneaking thief, stealth, or a surreptitious visit to a house of ill repute. However, 忍び is sometimes used to refer to an outcast ninja.

This term was somehow given a better report when various video games, TV series, and even a movie came out with this Shinobi title.

忍び are sometimes Romanized as two words: Shin obi, or Shin-obi.

Note: The first character can be written as

or

.

sān rén chéng hǔ

삼인성호

These four characters together relay the meaning that can be expressed in English as, "When three people say there's a tiger running in the street, you believe it."

Of course, there is an ancient story behind this idiom...

This is actually a proverb that resulted from a conversation that occurred around 300 B.C.

The conversation was between the king of the Wei kingdom and one of the king's ministers named Pang Cong.

It was near the end of one of many wars, this time with the Zhao kingdom. Pang Cong was to be sent by the king to the Zhao kingdom with the king's son who was to be held hostage. It was common at the time for a king to make his son a hostage to secure stable peace between warring kingdoms.
Before minister Pang Cong departed, he asked his king, "If one person told you there was a tiger running in the street, would you believe it?."


"No," the king said.

The minister continued, "What if two people told you?"

The king replied, "Well, I would have my doubts but I might believe it."

The minister continued, "So, what if three people told you that there is a tiger running in the streets?"

The king replied, "Yes, I would believe it, it must be true if three people say it."

The minister then reminded the king, "Your son and I are now traveling far away to live in the distant Zhao kingdom - much farther from your palace than the street. Rumors may fly about me in my absence, so I hope your majesty will weight such rumors appropriately."

The king replied, "I have every trust in you, do not worry"
While the minister was gone, the king's enemies gossiped about minister Pang Cong on many occasions. At first, the king thought nothing of these comments and rumors. But slowly as the rumors mounted, the king began to suspect ill of his minister.

Some time later when peace was well-established, the minister and prince were freed and returned to the kingdom of Wei. The king received his son, BUT DID NOT EVEN SUMMON MINISTER PANG CONG TO THE PALACE!

Hopefully this story will help you see how dangerous words can be when used to promote rumors, or create ill will. And perhaps will inspire you to not believe everything you hear.

There is also a secondary suggestion in this idiom that gossip is as ferocious as a tiger. Some Chinese people who don't know the ancient story above may believe that this scroll means that rumors are as vicious as three tigers.

Note: This proverb appears in my Korean dictionary but is not well-known in Korea.

dōng fāng zì zūn

dung fong chi juen

tou hou zi son

동방자존

東方自尊 is the most universal way to write "Asian Pride."

We worked on this one for a long time. The effort involved both Chinese and Japanese translators and lengthy discussions. If you have been searching for this term, there is a reason that it's hard to find the way to write "Asian Pride" in Chinese and Japanese - it's because of the inherent difficulties in figuring out a universal combination of characters that can be read in all languages that use forms of Chinese characters.

This final solution that you see to the left creates a reasonable title in Chinese, and an exotic (perhaps unusual) title in Japanese (This could be read as "Eastern Self-Respect" in Japanese").
Although not as natural, it does have the same meaning in Korean Hanja and the older-generation of Vietnamese people will be able to read it too.

The first two characters literally mean "Oriental" and the second two mean "pride," "self-esteem," or "self-respect" (we chose the most non-arrogant way to say "pride"). If you have "Asian Pride" (sometimes spelled Asian Pryde) these are the characters for you.

Note: For those of you that wonder, there is nothing technically wrong with the word "Oriental." It is a correct word, and any bad meanings were created by so-called "Asian Americans" and Caucasians in the United States. To say "Asian" would not completely correct to the intended meaning, since that would include people from Saudi Arabia, Iraq, Iran, India, and portions of Russia.

For further proof, if you were of East Asian ancestry and born in England, you would be known as a "British Oriental" (The "Oriental stigma" is basically an American creation and, therefore, applies mostly to the American English language - where they get a bit overzealous with political correctness).

Further, since the Chinese and Japanese word for Oriental is not English, it can not be construed having ill-meaning. One trip to China or Japan, and you will find many things titled with these two characters such as malls, buildings, and business names. These places also use "Oriental" as their English title (much as we do, since our Chinese business name starts with these same two characters).

In short, the first two character have the meaning that Americans attach to "Asian" but is more technically correct.
Search for Ill in my Japanese & Chinese Dictionary
The following table may be helpful for those studying Chinese or Japanese...
Title
Characters
Romaji

(Romanized Japanese)

Various forms of Romanized Chinese
2. Right Resolve
Right Thought
Right Intention
Perfect Resolve
正思唯
sei shi yui

---

seishiyui
zhèng sī wéi

---

zheng4 si1 wei2

---

zheng si wei

---

zhengsiwei
cheng ssu wei

---

chengssuwei
Lover
Sweetheart
情人
jou nin / jou jin

---

jounin / joujin

---

jo nin / jo jin

---

jonin/jojin
qíng rén / qing2 ren2 / qing ren / qingren
ch`ing jen / chingjen / ching jen
Phoenix Rise from the Ashes
鳳凰涅磐

---

凤凰涅磐
fèng huáng niè pán

---

feng4 huang2 nie4 pan2

---

feng huang nie pan

---

fenghuangniepan
feng huang nieh p`an

---

fenghuangniehpan

---

feng huang nieh pan
Shinobi
Ninja Outcast
忍び
shino-bi
Tiger Rumor
三人成虎
sān rén chéng hǔ

---

san1 ren2 cheng2 hu3

---

san ren cheng hu

---

sanrenchenghu
san jen ch`eng hu

---

sanjenchenghu

---

san jen cheng hu
Asian Pride
Oriental Pride
Asian Pryde
AZN Pryde
東方自尊

---

东方自尊
tou hou zi son

---

touhouzison

---

to ho zi son

---

tohozison
dōng fāng zì zūn

---

dong1 fang1 zi4 zun1

---

dong fang zi zun

---

dongfangzizun
tung fang tzu tsun

---

tungfangtzutsun
In some entries above you will see that characters have different versions above and below a line.
In these cases, the characters above the line are Traditional Chinese, while the ones below are Simplified Chinese.
Successful Chinese Character and Japanese Kanji calligraphy searches within the last few hours...
All of our calligraphy wall scrolls are handmade.
When the calligrapher finishes creating your artwork, it is taken to my art mounting workshop in Beijing where a wall scroll is made by hand from a combination of silk, rice paper, and wood.
After we create your wall scroll, it takes at least two weeks for air mail delivery from Beijing to you.
Allow a few weeks for delivery. Rush service speeds it up by a week or two for $10!
When you select your calligraphy, you'll be taken to another page where you can choose various custom options.
Check out my lists of Japanese Kanji Calligraphy Wall Scrolls and Old Korean Hanja Calligraphy Wall Scrolls.
Some people may refer to this entry as Ill Kanji, Ill Characters, Ill in Mandarin Chinese, Ill Characters, Ill in Chinese Writing, Ill in Japanese Writing, Ill in Asian Writing, Ill Ideograms, Chinese Ill symbols, Ill Hieroglyphics, Ill Glyphs, Ill in Chinese Letters, Ill Hanzi, Ill in Japanese Kanji, Ill Pictograms, Ill in the Chinese Written-Language, or Ill in the Japanese Written-Language.