Not what you want?
Try searching again using:
1. Other similar-meaning words.
2. Fewer words or just one word.
Focuse in Chinese / Japanese...
Buy a Focuse calligraphy wall scroll here!
Start your custom "Focuse" project by clicking the button next to your favorite "Focuse" title below...
Switched to secondary search mode due to lack of results using primary.
These secondary results may not be very accurate. Try a different but similar meaning word or phrase for better results. Or...
Look up Focuse in our Japanese Kanji & Chinese Character Dictionary
Our dictionary is a different system then the calligraphy search you just tried.
If you want a special phrase, word, title, or proverb, feel free to contact me, and I will translate your custom calligraphy idea for you.
Quick links to words on this page...

zhuān xīn

sen shin

전심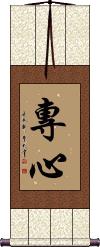 The first character means "for a particular person, occasion, or purpose," "focused on one single thing," "concentrated" and sometimes, "special."

The second character means "heart" or "mind" by itself.

Together, these two characters make a word that means, "paying attention with your heart." It's often translated as, "dedication," as in "be absorbed in" or "concentrate one's efforts." It's also used to mean, "with single mind," "whole-heartedly," "paying attention," "undivided attention," "concentration (-ed)," "engrossed," "devotionally (listening/watching)," and/or "attentive."

My favorite translation, which comes from the Oxford Advanced Chinese/English Dictionary is, "wholehearted devotion."

If it seems like the meaning of this word is quite open, you are correct. The context in which the word is used matters a lot. It can mean different things depending on how you use it. This makes it kind of nice as you can decide what this means to you (within some limits). This word is always positive in meaning, so even if a Chinese person reads it differently than you, it will still have a good meaning.
---

In Japanese, they tend to use a variation of the second character which has one less stroke. If you want your calligraphy written this Japanese form, please click on the Kanji shown to the right instead of the button above. Note: Japanese and Chinese people will recognize either form.
---

jì lǜ

기율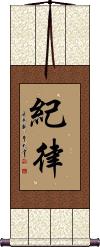 Discipline: There are a few different ways to define this word in English. This Asian word conveys the idea of extreme self-control and perhaps self-sacrifice, and obedience. This matches what I was taught as the meaning of "discipline" when I was in the Marine Corps. There is also an additional idea of maintaining order or being orderly in your tasks.

This idea would also fit an athlete training for the Olympics who gives up many pleasures to stay focused on their training.
---
See Also: Self-Control | Will-Power

niàn

nen

념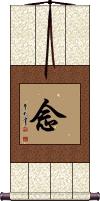 念 is the simplest way to write "mindfulness" in Chinese, Japanese Kanji, and old Korean Hanja.

念 can be defined these ways: To read; to study (a degree course); to read aloud; to miss somebody (keeping them in your mind); idea; remembrance; sense; thought; feeling; desire; concern; attention; recollection; memory; to think on/about; reflect; repeat, intone; a moment.

Obviously, the context in which the character is used determines which definition or meaning is perceived. As a single character, it's open and perhaps ambiguous. Thus, it can be read with any or all of these meanings.

念 is used in a Buddhist context (often written as 正念 or "right mindfulness") with similar meanings of thought and contemplation.

In Japanese, this character is sometimes used as a name "Nen."
---
See Also: Buddhism | Enlightenment

zhèng niàn

sei nen

정념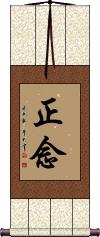 正念 is one of the Noble Eightfold Paths of Buddhism. Right Mindfulness, along with Right Effort and Right Concentration constitute the path to Concentration or Perfect Thought.

Right Mindfulness is about remaining focused on one's body, feelings, mind and mental qualities. It's also about being ardent, aware, and mindful, and supposes that you've already put aside worldly desire and aversion.

Monk Bhikkhu Bodhi described this as: The mind is deliberately kept at the level of bare attention, a detached observation of what is happening within us and around us in the present moment. In the practice of right mindfulness the mind is trained to remain in the present, open, quiet, and alert, contemplating the present event.

Another definition: Ongoing mindfulness of body, feelings, thinking, and objects of thought.
---
This term is exclusively used by devout Buddhists. It is not a common term, and is remains an unknown concept to most Japanese and Chinese people.
---
See Also: Buddhism | Enlightenment

bǎi zhé bù náo

hyaku setsu su tou

백절불요

This Chinese proverb means "Be undaunted in the face of repeated setbacks." More directly-translated, it reads, "[Overcome] a hundred setbacks, without flinching." This is of Chinese origin but is commonly used in Japanese, and somewhat in Korean (same characters, different pronunciation).

This proverb comes from a long, and occasionally tragic story of a man that lived sometime around 25-220 AD. His name was Qiao Xuan and he never stooped to flattery but remained an upright person at all times. He fought to expose corruption of higher-level government officials at great risk to himself.

Then when he was at a higher level in the Imperial Court, bandits were regularly capturing hostages and demanding ransoms. But when his own son was captured, he was so focused on his duty to the Emperor and common good that he sent a platoon of soldiers to raid the bandits' hideout, and stop them once and for all even at the risk of his own son's life. While all of the bandits were arrested in the raid, they killed Qiao Xuan's son at first sight of the raiding soldiers.

Near the end of his career a new Emperor came to power, and Qiao Xuan reported to him that one of his ministers was bullying the people and extorting money from them. The new Emperor refused to listen to Qiao Xuan and even promoted the corrupt Minister. Qiao Xuan was so disgusted that in protest he resigned his post as minister (something almost never done) and left for his home village.

His tombstone reads "Bai Zhe Bu Nao" which is now a proverb used in Chinese culture to describe a person of strength will who puts up stubborn resistance against great odds.

My Chinese-English dictionary defines these 4 characters as, "keep on fighting in spite of all setbacks," "be undaunted by repeated setbacks" and "be indomitable."

Our translator says it can mean, "never give up" in modern Chinese.

Although the first two characters are translated correctly as "repeated setbacks," the literal meaning is "100 setbacks" or "a rope that breaks 100 times." The last two characters can mean "do not yield" or "do not give up."
Most Chinese, Japanese, and Korean people will not take this absolutely literal meaning but will instead understand it as the title suggests above. If you want a single big word definition, it would be indefatigability, indomitableness, persistence, or unyielding.
---
See Also: Tenacity | Fortitude | Strength | Perseverance | Persistence

xīn chéng jìng

shin chou jou

心澄淨 is the Buddhist concept of the pure and calm mind. It is believed that once you achieve a meditative state of pure focused thought, the mind becomes clear and calm. Although, others will say this means that achieving a calm mind will allow you to reach pure thought.

From Sanskrit, this is known as citta-prasāda. The concept of citta-prasāda is sometimes defined as, "clear heart-mind," or "the single and definitive aspiration."

jìng tǔ zōng

jou do shuu

정토종

淨土宗 is the title of Japanese "Pure Land Buddhism." This form is also romanized/known as "Jodo Shu" (jōdo shū).

Also known as Amidism for the fact that this is a branch of Mahayana (Mahāyāna) Buddhism which focuses on Amitabha (Amitābha) Buddha. This form of Buddhism, along with Chinese characters, came to Japan via China in the 5th century according to most historians.
---
Notes:
Pure Land Buddhism is also known as




(jōdo bukkyō).
Some will just express it with just


(Pure Land).
---
See Also: Shin Buddhism

nán pài táng láng

남파당랑

This can be translated literally as "Southern School Praying Mantis" or "Southern Style Praying Mantis."

Despite its name, the Southern Praying Mantis style of Chinese martial arts is unrelated to the Northern Praying Mantis style. Southern Praying Mantis is instead related most closely to fellow Hakka styles such as Dragon and more distantly to the Fujian family of styles that includes Fujian White Crane, Five Ancestors, and Wing Chun.

This style of martial arts focuses more on fighting skills rather than aesthetics.

Of course, you already knew that if you were looking for this term.

Note: This title can be pronounced and does have meaning in Korean but only to Koreans familiar with Chinese martial arts.
Search for Focuse in my Japanese & Chinese Dictionary
The following table may be helpful for those studying Chinese or Japanese...
Title
Characters
Romaji

(Romanized Japanese)

Various forms of Romanized Chinese
Devotion
Dedication
Attentive
Focused
專心 / 専心 / 耑心

---

专心
sen shin / senshin
zhuān xīn

---

zhuan1 xin1

---

zhuan xin

---

zhuanxin
chuan hsin

---

chuanhsin
Discipline
紀律

---

纪律
jì lǜ / ji4 lv4 / ji lv / jilv
chi lü / chilü
Mindfulness
念
nen
niàn / nian4 / nian
nien
7. Right Mindfulness
Right Memory
Perfect Mindfulness
正念
sei nen / seinen
zhèng niàn

---

zheng4 nian4

---

zheng nian

---

zhengnian
cheng nien

---

chengnien
Undaunted After Repeated Setbacks
百折不撓

---

百折不挠
hyaku setsu su tou

---

hyakusetsusutou

---

hyaku setsu su to

---

hyakusetsusuto
bǎi zhé bù náo

---

bai3 zhe2 bu4 nao2

---

bai zhe bu nao

---

baizhebunao
pai che pu nao

---

paichepunao
Purity of Mind
心澄淨
shin chou jou

---

shinchoujou

---

shin cho jo

---

shinchojo
xīn chéng jìng

---

xin1 cheng2 jing4

---

xin cheng jing

---

xinchengjing
hsin ch`eng ching

---

hsinchengching

---

hsin cheng ching
Pure Land Buddhism
Jodo Buddhism
淨土宗

---

浄土宗
jou do shuu

---

joudoshuu

---

jo do shu

---

jodoshu
jìng tǔ zōng

---

jing4 tu3 zong1

---

jing tu zong

---

jingtuzong
ching t`u tsung

---

chingtutsung

---

ching tu tsung
Southern Praying Mantis
南派螳螂
nán pài táng láng

---

nan2 pai4 tang2 lang2

---

nan pai tang lang

---

nanpaitanglang
nan p`ai t`ang lang

---

nanpaitanglang

---

nan pai tang lang
In some entries above you will see that characters have different versions above and below a line.
In these cases, the characters above the line are Traditional Chinese, while the ones below are Simplified Chinese.
Successful Chinese Character and Japanese Kanji calligraphy searches within the last few hours...
All of our calligraphy wall scrolls are handmade.
When the calligrapher finishes creating your artwork, it is taken to my art mounting workshop in Beijing where a wall scroll is made by hand from a combination of silk, rice paper, and wood.
After we create your wall scroll, it takes at least two weeks for air mail delivery from Beijing to you.
Allow a few weeks for delivery. Rush service speeds it up by a week or two for $10!
When you select your calligraphy, you'll be taken to another page where you can choose various custom options.
Check out my lists of Japanese Kanji Calligraphy Wall Scrolls and Old Korean Hanja Calligraphy Wall Scrolls.
Some people may refer to this entry as Focuse Kanji, Focuse Characters, Focuse in Mandarin Chinese, Focuse Characters, Focuse in Chinese Writing, Focuse in Japanese Writing, Focuse in Asian Writing, Focuse Ideograms, Chinese Focuse symbols, Focuse Hieroglyphics, Focuse Glyphs, Focuse in Chinese Letters, Focuse Hanzi, Focuse in Japanese Kanji, Focuse Pictograms, Focuse in the Chinese Written-Language, or Focuse in the Japanese Written-Language.