Not what you want?
Try searching again using:
1. Other similar-meaning words.
2. Fewer words or just one word.
Flexible in Chinese / Japanese...
Buy a Flexible calligraphy wall scroll here!
Start your custom "Flexible" project by clicking the button next to your favorite "Flexible" title below...

róu

yawara

유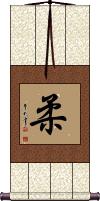 This Kanji literally means flexible, pliable, gentle, or yielding. 柔 is also the first Kanji of the Japanese martial arts titles of Judo and Jujutsu (Jujitsu). In those cases, it's pronounced "ju" in Japanese. However, alone, the classic pronunciation is "yawara." Some translate this Kanji (in the context of martial arts) as "The Heart of Judo."

Please note that this just means pliable, gentle, and yielding in Chinese and old Korean Hanja. They do know what Judo and Jujitsu are but if this character is seen alone in China or Korea, people generally will not think of the martial arts context.

shēn suō

shin shuku

신축

伸縮 can mean, to lengthen and shorten; flexible; adjustable; retractable; extensible; expansion and contraction; elasticity; flexibility; elastic; stretchy.

伸縮 is often romanized from Korean as "Shin Chook," where it's a term associated as one of the 8 key concepts of Tang Soo Do.

róu shù

juu jutsu

유술

柔術 has been somewhat incorrectly spelled and pronounced "Jujitsu" for some time in the English-speaking world. The correct Japanese Romaji is Jujutsu or Juujutsu.

A little background on the word: By combining the Kanji pronounced "Ju" (which means flexible, pliable, gentle, yielding) with the Kanji pronounced "Jutsu" (which means art, or technique), we get a meaning that can be translated as "flexible technique," "gentle art" or "yielding technique."
柔術 does make sense in Chinese as well, although pronounced, "rou shu" in China.

The Jujutsu system has a history in Japan that started well-before the 1600's. Some see this style as a variation of the "Empty Hand Method" (Karate-do). Even the samurai of old used some Jujutsu methods in defending themselves with their unarmed hands against weapons that could pierce their heavy armor.

There are convoluted relationships between various schools and systems of martial arts but it's generally accepted that Jujutsu led to the development of Judo and a few other variations.

líng huó xìng

령활성 or 영활성

Flexibility is being open to change. You consider others' ideas and feelings and don't insist on your own way. Flexibility gives you creative new ways to get things done. Flexibility helps you to keep changing for the better. This Chinese word could also be defined as "flexible nature."
---
See Also: Cooperation

xiàng shuǐ yí yàng

象水一樣 is a short quote from a much longer statement by Bruce Lee.

He was summarizing how people should be flexible to all circumstances, attacks, or situations. At the end, he exclaims, "Be like water my friend." 象水一樣 is the, "Be like water" part alone, since that seems to be what most people want.

róu dào

judo

유도

柔道 is the martial art invented in Japan and known as "Judo" around the world.

Translated directly, it means "Gentle Way" or "Flexible Way"

More about Judo

dòng tài

dou tai

동태

動態 is the Chinese, Japanese Kanji, and old Korean Hanja for a word that means "dynamic state."

動態 can also mean:
movement; motion; development; trend; dynamic (science); the state of being dynamic.

動態 can be used to describe someone or an organization that keeps up with cutting-edge trends. Always flexible, always changing, always moving.

rěn

nin

인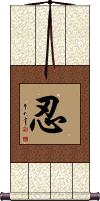 忍 contains the ideas of patience, equanimity, perseverance, forbearance, and endurance. Alone, this single character can be a bit ambiguous or flexible. It can also mean to endure, to bear, to put up with or to conceal. If you want to simply decide what this character means to you within the general meaning but keep it a mystery to others, this is a good choice.

If you want to be more direct, you may want to choose one of our other selections that mean perseverance or patience (you will see this character within those larger words/phrases).

There is a secondary meaning in Japanese, since this is the first character of the word ninja.



Note that when writing this as Kanji, Japanese will tend to write it in the form shown to the right. If you select our Japanese master calligrapher, please expect this Kanji form (yes, it's just one stroke that is slightly different in location, crossing another stroke in the Japanese Kanji form).
---
See Also: Perseverance | Patience | Tenacious

jī dū

kirisuto

기독

This how to write "Christ" in Chinese characters, Korean Hanja, and Japanese Kanji. 基督 is the word used in the Chinese Union Bible (the only readily-available translation of the Bible into Chinese that I know of - published about 100 years ago). For Chinese Christians, this is the most common way to refer to Jesus Christ.

基督 is also the way that "Christ" is written in Japanese. But since the Japanese language is very flexible about the sounds that can be assigned to various Kanji, these characters have been assigned a pronunciation that sounds a lot like "Christ" or actually closer to the original "Christos." In Japanese (if you don't know how the Romaji shown above in the gray box works) it sounds like "key ree sue toe" using English words/sounds. Say those four words really fast and you'll get it.
It should be noted that only Japanese Christians will be familiar with this word.

基督 is best defined, read and understood with the characters together but if you take this word for Christ apart, the first character means "fundamentals" or "foundation." The second character can mean "leader" or "boss."
Search for Flexible in my Japanese & Chinese Dictionary
The following table may be helpful for those studying Chinese or Japanese...
Title
Characters
Romaji

(Romanized Japanese)

Various forms of Romanized Chinese
Heart of Judo
柔
yawara
róu / rou2 / rou
jou
Tension and Relaxation
伸縮

---

伸缩
shin shuku / shinshuku
shēn suō / shen1 suo1 / shen suo / shensuo
shen so / shenso
Jujitsu
Jujutsu
柔術

---

柔术
juu jutsu / juujutsu / ju jutsu / jujutsu
róu shù / rou2 shu4 / rou shu / roushu
jou shu / joushu
Flexibility
靈活性

---

灵活性
líng huó xìng

---

ling2 huo2 xing4

---

ling huo xing

---

linghuoxing
ling huo hsing

---

linghuohsing
Be Like Water
象水一樣

---

象水一样
xiàng shuǐ yí yàng

---

xiang4 shui3 yi2 yang4

---

xiang shui yi yang

---

xiangshuiyiyang
hsiang shui i yang

---

hsiangshuiiyang
Judo
柔道
judo
róu dào / rou2 dao4 / rou dao / roudao
jou tao / joutao
Dynamic
動態

---

动态
dou tai / doutai / do tai / dotai
dòng tài / dong4 tai4 / dong tai / dongtai
tung t`ai / tungtai / tung tai
Patience
Perseverance
忍
nin
rěn / ren3 / ren
jen
Christ
基督
kirisuto
jī dū / ji1 du1 / ji du / jidu
chi tu / chitu
In some entries above you will see that characters have different versions above and below a line.
In these cases, the characters above the line are Traditional Chinese, while the ones below are Simplified Chinese.
Successful Chinese Character and Japanese Kanji calligraphy searches within the last few hours...
All of our calligraphy wall scrolls are handmade.
When the calligrapher finishes creating your artwork, it is taken to my art mounting workshop in Beijing where a wall scroll is made by hand from a combination of silk, rice paper, and wood.
After we create your wall scroll, it takes at least two weeks for air mail delivery from Beijing to you.
Allow a few weeks for delivery. Rush service speeds it up by a week or two for $10!
When you select your calligraphy, you'll be taken to another page where you can choose various custom options.
Check out my lists of Japanese Kanji Calligraphy Wall Scrolls and Old Korean Hanja Calligraphy Wall Scrolls.
Some people may refer to this entry as Flexible Kanji, Flexible Characters, Flexible in Mandarin Chinese, Flexible Characters, Flexible in Chinese Writing, Flexible in Japanese Writing, Flexible in Asian Writing, Flexible Ideograms, Chinese Flexible symbols, Flexible Hieroglyphics, Flexible Glyphs, Flexible in Chinese Letters, Flexible Hanzi, Flexible in Japanese Kanji, Flexible Pictograms, Flexible in the Chinese Written-Language, or Flexible in the Japanese Written-Language.