Not what you want?
Try searching again using:
1. Other similar-meaning words.
2. Fewer words or just one word.
Excellent in Chinese / Japanese...
Buy an Excellent calligraphy wall scroll here!
Start your custom "Excellent" project by clicking the button next to your favorite "Excellent" title below...

jié zuò

kessaku

걸작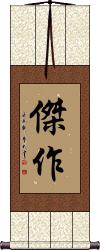 傑作 means "masterpiece" or "best work." It suggests accomplishing excellence or producing outstanding work.

miào

myou

묘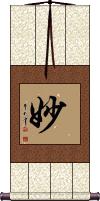 This single character can mean a lot of things (a bit ambiguous). The meanings include: clever; wonderful; strange; unusual; superb; excellent; beautiful; mystic; supernatural; profound; mysterious; good; surpassing; fine, lovely, charming; special; outstanding; incomparable.

jiàn kāng shēng huó

kenkou seikatsu

건강생활

If you are into healthy living, this might be an excellent selection for a wall scroll to hang in your home.

The first two characters speak of health, vitality, vigor, and being of sound body. The second two characters mean living or life (daily existence).
---

ān chán

안선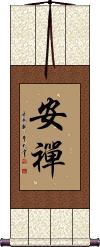 These two Chinese characters create a title that means to reach peace and calm through meditation.

安禪 is an excellent wall scroll for your relaxation or meditation room.

安禪 is also a Buddhist-related term that encompasses the idea of entering into dhyana meditation.

chāo rén

chou jin

초인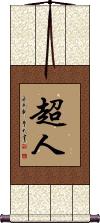 超人 is the Chinese title for the comic book hero, Superman.

In Japanese, this can also refer to a superman or superwoman but may refer to Nietzsche's ideal man of the future or the "Ubermensch" or "overman."

超人 is also a word in old Korean Hanja but more a generic term for a super or excellent person or hero.

xián

ken

현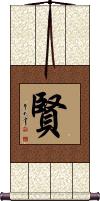 賢 is used to refer to being a wise, trustworthy and virtuous person. But it also contains the ideas of intelligence, genius, scholarship, virtue, sage, saint, good, excellent in character.

賢 is used in Chinese, Japanese Kanji, and old Korean Hanja. Also used in a Buddhist context with same meaning.

Note: Can also be male given name, Masaru, in Japanese.

tài

tai

태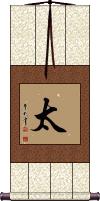 We struggled to find a word that encompasses the English, "hella" with a meaning like, "really," "a lot," "totally," and/or "very."

In Chinese, Japanese, and old Korean, this character is often said as an adjective in front of other words, to make "good" into "too good," or "extremely good."

The meaning of this character from the dictionary is highest, greatest, too (much), very, extremely, fat, grand, magnificent, excellent, or great.

bīng zài jīng ér bú zài duō

This Chinese proverb literally means: [The value of] soldiers/warriors lies in [their] quality, not [just] in [their] quantity.

In simple terms, this says that in regard to warriors, quality is better than quantity.

Most tacticians will agree that this can aid in the factor known as "force multiplication." Having good troops, of high morale, excellent training, and good discipline is like having a force that is three times larger.
---
See Also: 兵在精

jīng wǔ

jing mo

정무

This two-character title is used for a certain type of martial arts. You can translate this roughly as "Excellent Marital Arts" or "Excellence in Martial Arts." You will notice that the second character is "wu" as in wushu (martial arts) and wushi (warrior).

More information can be found at the Jing Mo website. You should probably only order this if you are a member of this association.

Note that "jing mo" is the Cantonese pronunciation of these characters. In Mandarin, they are "jing wu."
Also used in Korean but only by those involved with martial arts who can also read Korean Hanja (a small percentage of the population).

jiàn

ken / tsurugi

검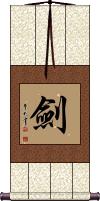 This Character is pronounced "jian" in Chinese. When you say it, imagine that you are making the sound of a sword as it clashes with a metal shield. This might get you closer to the correct pronunciation in Chinese.

I actually wonder if this word came from the metallic ringing sounds of a sword in battle - but such knowledge is lost in history.

The sword is a symbol of a warrior. The one thing that a soldier in ancient China lived and died by. A warrior with his skills and sword proves himself of great value. A warrior who losses his sword instantly becomes worthless.

劍 is an excellent scroll for someone in the military (especially officers of all services - as well as enlisted NCO Marines since they still carry swords even if mainly for ceremonial purposes). Or perhaps someone who practices variations of kung fu or tai chi that involve weapons.

Please note that while this character is understood with the sword meaning in Japanese, you might be looking for the word "katana" which also means sword in Japanese but means "knife" in Chinese.
---
There are other ways to write sword, and here are a few...

































If you are particular about the version you receive, please let me know when you place your order (Note: Special styles are only available from one of our master calligraphers).

We have a forum entry that addresses the many ways to write sword. You can find that here: 100 Ways to Write Sword - Deciphering Ancient Seal Script

gōng fu

gung fu

kan fu / ku fu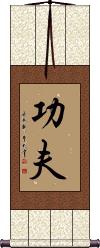 One of the most famous types of martial arts in the world - and not just because of Bruce Lee.

Some translate the meaning as "Accomplishment by Great Effort." I think this is partially true but directly translated it literally means "Merit/Achievement/Accomplishment Man." The word "fu" can sometimes mean "husband" or "porter" but in this case, it can only mean "man." However, few in China will think "man" when they hear the word "Gong Fu" spoken.

This term is also used for things other than martial arts. In fact, it's used to refer to a person with excellent skills in crafts that require a great deal of effort such as cooking, tea ceremonies, and calligraphy.

What a lot of people don't know is that the spelling of "Kung Fu" was actually taken from the old Wade Giles form of Romanization. Using this method, the sounds of the English "G" and "K" were both written as "K" and an apostrophe after the "K" told you it was supposed to sound like a "G." Nobody in the west knew this rule, so most people pronounce it with a "K-sound." And so Gong Fu will always be Kung Fu for most westerners.

Also, just to educate you a little more, the "O" in "Gong" has a sound like the English word "oh."

The popular Chinese dish "Kung Pao Chicken" suffers from the same problem. It should actually be "Gong Bao Chicken."

Historical note: Many will claim that Kung Fu was invented by the monks of the Shaolin monastery. This fact is argued in both directions by scholars of Chinese history. Perhaps it is more accurate to say that the Shaolin Monks brought the original fame to Kung Fu many generations ago.
---
Japanese note: While most Japanese martial artists will recognize these characters, Katakana is more often used to approximate the pronunciation of "Kung Fu" with "カンフー." Some will argue as to whether this should be considered a Japanese word at all.
---
See Also: Bruce Lee
Search for Excellent in my Japanese & Chinese Dictionary
The following table may be helpful for those studying Chinese or Japanese...
Title
Characters
Romaji

(Romanized Japanese)

Various forms of Romanized Chinese
Masterpiece
Excellent
Outstanding
傑作

---

杰作
kessaku / kesaku
jié zuò / jie2 zuo4 / jie zuo / jiezuo
chieh tso / chiehtso
Clever
Superb
Wonderful
妙
myou / myo
miào / miao4 / miao
Healthy Living
健康生活
kenkou seikatsu

---

kenkouseikatsu

---

kenko seikatsu

---

kenkoseikatsu
jiàn kāng shēng huó

---

jian4 kang1 sheng1 huo2

---

jian kang sheng huo

---

jiankangshenghuo
chien k`ang sheng huo

---

chienkangshenghuo

---

chien kang sheng huo
Reach Peace and Calm by Meditation
安禪

---

安禅
ān chán / an1 chan2 / an chan / anchan
an ch`an / anchan / an chan
Superman
超人
chou jin / choujin / cho jin / chojin
chāo rén / chao1 ren2 / chao ren / chaoren
ch`ao jen / chaojen / chao jen
Wise and Virtuous
賢

---

贤
ken
xián / xian2 / xian
hsien
Hella
太
tai
tài / tai4 / tai
t`ai / tai
Warriors: Quality Over Quantity
兵在精而不在多
bīng zài jīng ér bú zài duō

---

bing1 zai4 jing1 er2 bu2 zai4 duo1

---

bing zai jing er bu zai duo

---

bingzaijingerbuzaiduo
ping tsai ching erh pu tsai to

---

pingtsaichingerhputsaito
Jing Mo
Jing Wu
精武
jīng wǔ / jing1 wu3 / jing wu / jingwu
ching wu / chingwu
Sword
劍

---

剑
ken / tsurugi
jiàn / jian4 / jian
chien
Kung Fu
Gong Fu
功夫
kan fu / ku fu

---

kanfu / kufu
gōng fu / gong1 fu / gong fu / gongfu
kung fu / kungfu
In some entries above you will see that characters have different versions above and below a line.
In these cases, the characters above the line are Traditional Chinese, while the ones below are Simplified Chinese.
Successful Chinese Character and Japanese Kanji calligraphy searches within the last few hours...
All of our calligraphy wall scrolls are handmade.
When the calligrapher finishes creating your artwork, it is taken to my art mounting workshop in Beijing where a wall scroll is made by hand from a combination of silk, rice paper, and wood.
After we create your wall scroll, it takes at least two weeks for air mail delivery from Beijing to you.
Allow a few weeks for delivery. Rush service speeds it up by a week or two for $10!
When you select your calligraphy, you'll be taken to another page where you can choose various custom options.
Check out my lists of Japanese Kanji Calligraphy Wall Scrolls and Old Korean Hanja Calligraphy Wall Scrolls.
Some people may refer to this entry as Excellent Kanji, Excellent Characters, Excellent in Mandarin Chinese, Excellent Characters, Excellent in Chinese Writing, Excellent in Japanese Writing, Excellent in Asian Writing, Excellent Ideograms, Chinese Excellent symbols, Excellent Hieroglyphics, Excellent Glyphs, Excellent in Chinese Letters, Excellent Hanzi, Excellent in Japanese Kanji, Excellent Pictograms, Excellent in the Chinese Written-Language, or Excellent in the Japanese Written-Language.
24 people have searched for Excellent in Chinese or Japanese in the past year.
Excellent was last searched for by someone else on May 15th, 2018