Sorry, too late for Christmas delivery of custom calligraphy. But I do have a lot of in-stock calligraphy. If you have an emergency, I have a limited number of blank scrolls and can have a local calligrapher create something for you.
Want to order a custom scroll now? I can also create a web page to show the gift recipient about the scroll they will receive in January. Contact me!
Not what you want?
Try searching again using:
1. Other similar-meaning words.
2. Fewer words or just one word.
The Name Engineer in Chinese / Japanese...
Buy an Engineer calligraphy wall scroll here!
Start your custom "Engineer" project by clicking the button next to your favorite "Engineer" title below...
Quick links to words on this page...

wēi jī

kiki

위기
Separately, the first character here does mean "danger" or "to endanger" and the second character can mean "opportunity."

However, I want to debunk a myth that was propagated by some westerners who did not have a clear understanding of Asian languages...

While often, Chinese/Japanese/Korean compound words (words of two or more characters) are the sum of their parts, this is not always the case. The compound is often understood with a completely different meaning than the two characters individually.

Many have said that the Chinese/Japanese/Korean word for Crisis is made up of the characters for "danger" and "opportunity." This is true when phrased this way.
However, it's not absolutely correct to say that "danger + opportunity = crisis" in Asian cultures.

English example:
If I tell you that...
Bovine creature + Guy behind the plate in baseball = Locomotive protection
...you would think I was mad. But consider that "cow + catcher = cowcatcher," which is the device that used to be found on steam engines to protect them if they hit an animal on the tracks. When we hear the word "cowcatcher" we don't separate the words into their individual meanings (necessarily).
The same is true with the word for crisis in Chinese/Japanese/Korean. While you can separate the characters, few Asian people would automatically do so in their minds.

The final answer:
It is a half-truth to say, "danger plus opportunity equals crisis" in Chinese/Japanese/Korean. Use this statement and concept with caution.

Also, the second character can mean "secret" or "machine" depending on context so I guess you have to say "a dangerous machine = crisis" or "danger + a secret = crisis." Both of these are only slightly more ridiculous than the first premise.

PS: This is probably not a great word for a scroll, unless you have a special use for it.

gōng chéng shī
工程師 is the occupational title of an engineer in Chinese. In China, an engineer might have a sign on his desk or a name badge that has his/her name on it, and this title. It's not too common to see this on a wall scroll in China but you are allowed to take such liberties in the west.

Note that in China, a wall scroll like this is sometimes given to a teacher who builds (engineers) the spirits of their students. It's a way to honor a teacher, and in this case, the meaning departs from an occupational title.

cháng shì
嘗試 is a close match for the English phrase, "let us try" or the French word "Essayons" as used by Combat Engineers in the U.S. Army.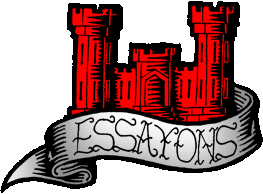 嘗試 can also be translated as "to try" or "to attempt."

Even if you're not a Combat Engineer, this word should inspire you to attempt to accomplish difficult things. If you don't try, you are certain to fail, if you do try, at least there is a chance of success.

The worst thing is not failure, the worst thing is not trying at all.

gǎn xìng gōng xué

kansei kougaku

감성공학
In short, kansei engineering involves collecting data on human experiences with a product, and then designing or engineering improvements based on those experiences or "senses." Some may define this as "engineering around the human experience."

There is a lot more to know about kansei but if you are looking for this word, you probably already know the big picture.

Note: This term is very new in China, and only used by businesses, factories, and engineers that are implementing TQM principles. While the characters have the same base meaning in both languages, this is really a Japanese title that is flowing back into the Chinese language (in history, most things flowed from China to Japan). To a Chinese person that is not familiar with this concept, they may interpret this as "sense vocational studies," which doesn't make much sense. You may have to explain the intended meaning to some Chinese viewers. But that can make it a great conversation piece.

This is also a newer term in Korean, and is only used in certain parts of industry, with the definition of "Sensory Engineering." Not yet in widespread use in Korea.
---
See Also: Kaizen

shā

satsu

살
殺 is how to write "to kill" or "killing."

殺 is an absolutely shocking word to have on a wall scroll. It will bewilder, scare, and perhaps offend any Chinese, Korean, or Japanese person who sees it. I do not in any way recommend this for a piece of calligraphy artwork. This entry is only here because our calligraphy search engine received so many requests for "kill."

Note: In Korean Hanja, this character is not often used alone - see the other two-character entry for "kill."

shā lù

satsuriku

살육
殺戮 is how to write "kill" or "massacre."

殺戮 is an absolutely shocking word to have on a wall scroll. It will bewilder, scare, and perhaps offend any Chinese, Korean or Japanese person who sees it. I do not in any way recommend this for a piece of calligraphy artwork. This entry is only here because our calligraphy search engine received so many requests for "kill" and "massacre."

You are all a bunch of sick puppies!

jī

hata

기
機 is an odd one. I've seen this on coffee cups and posters with the meaning of "opportunity." 機 is a correct definition but this character also means "machine." In fact, if you put the character for "flying" in front of this character, you have the Chinese word for "airplane" (literally: flying machine). Alone, on a wall scroll, it will be generally understood as "opportunity" but I want you to know this extra information before you make your selection. Note that in Japanese and Korean, this has a similar meaning but can also mean machine or loom.
---
See Also: Success
The following table may be helpful for those studying Chinese or Japanese...
Title
Characters
Romaji

(Romanized Japanese)

Various forms of Romanized Chinese
Crisis equals Danger plus Opportunity?
危機

---

危机
kiki
wēi jī / wei1 ji1 / wei ji / weiji
wei chi / weichi
Engineer
工程師

---

工程师
gōng chéng shī

---

gong1 cheng2 shi1

---

gong cheng shi

---

gongchengshi
kung ch`eng shih

---

kungchengshih

---

kung cheng shih
Let Us Try
嘗試

---

尝试
cháng shì

---

chang2 shi4

---

chang shi

---

changshi
ch`ang shih

---

changshih

---

chang shih
Kansei Engineering
Sense Engineering
感性工學

---

感性工学
kansei kougaku

---

kanseikougaku

---

kansei kogaku

---

kanseikogaku
gǎn xìng gōng xué

---

gan3 xing4 gong1 xue2

---

gan xing gong xue

---

ganxinggongxue
kan hsing kung hsüeh

---

kanhsingkunghsüeh
Kill
Slaughter
Murder
Butcher
殺

---

杀
satsu
shā / sha1 / sha
Kill
Massacre
Mass Killing
殺戮

---

杀戮
satsuriku
shā lù / sha1 lu4 / sha lu / shalu
Military Engineering
工兵
kouhei / kohei
gōng bīng

---

gong1 bing1

---

gong bing

---

gongbing
kung ping

---

kungping
Opportunity
機

---

机
hata
jī / ji1 / ji
chi
Seikan
青函
seikan
In some entries above you will see that characters have different versions above and below a line.
In these cases, the characters above the line are Traditional Chinese, while the ones below are Simplified Chinese.
Successful Chinese Character and Japanese Kanji calligraphy searches within the last few hours...
All of our calligraphy wall scrolls are handmade.
When the calligrapher finishes creating your artwork, it is taken to my art mounting workshop in Beijing where a wall scroll is made by hand from a combination of silk, rice paper, and wood.
After we create your wall scroll, it takes at least two weeks for air mail delivery from Beijing to you.
Allow a few weeks for delivery. Rush service speeds it up by a week or two for $10!
When you select your calligraphy, you'll be taken to another page where you can choose various custom options.
Check out my lists of Japanese Kanji Calligraphy Wall Scrolls and Old Korean Hanja Calligraphy Wall Scrolls.
Some people may refer to this entry as Engineer Kanji, Engineer Characters, Engineer in Mandarin Chinese, Engineer Characters, Engineer in Chinese Writing, Engineer in Japanese Writing, Engineer in Asian Writing, Engineer Ideograms, Chinese Engineer symbols, Engineer Hieroglyphics, Engineer Glyphs, Engineer in Chinese Letters, Engineer Hanzi, Engineer in Japanese Kanji, Engineer Pictograms, Engineer in the Chinese Written-Language, or Engineer in the Japanese Written-Language.