Not what you want?
Try searching again using:
1. Other similar-meaning words.
2. Fewer words or just one word.
Contemplation in Chinese / Japanese...
Buy a Contemplation calligraphy wall scroll here!
Start your custom "Contemplation" project by clicking the button next to your favorite "Contemplation" title below...

rù dìng

입정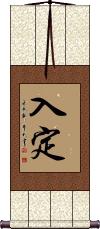 This title can be defined as Zen contemplation in Japanese, or sit quietly in (Buddhist) meditation in Chinese. It also carries a similar meaning in Korean Hanja. Therefore, this is a rather universal term for meditation in the context of Buddhism throughout the Orient.

Can also be translated as "Meditatively equipoised" or "enter into meditation by stilling the karmic activities of deed, speech, and thought."

The original Sanskrit word is samapanna. In Tibetan: snyoms par zhugs pa.

chán

zen

선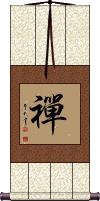 First let's correct something: The Japanese romanization for this character, "Zen" has penetrated the English language. In English, it's almost always incorrectly used for phrases like "That's so zen." Nobody says "That's so meditation" - right? As the title of a sect, this would be like saying, "That's soooo Baptist!"

禪 by itself just means "meditation." In that context, it should not be confined to use by any one religion or sect.

Regardless of the dictionary definition, more often than not, this character is associated with Buddhism. And here is one of the main reasons:
Zen is used as the title of a branch of Mahayana Buddhism which strongly emphasizes the practice of meditation.
However, it should be noted that Buddhism came from India, and "Chan Buddhism" evolved and developed in medieval China. The Chinese character "Chan" was eventually pronounced as "Zen" in Japanese. Chan Buddhists in China have a lot in common with Zen Buddhists in Japan.

More about the history of Zen Buddhism here.

Please also note that the Japanese Kanji character for Zen has evolved a little in Japan, and the two boxes (kou) that you see at the top of the right side of the character have been replaced by three dots with tails.

The original character would still be generally understood and recognized in Japanese (it's considered an ancient version in Japan) but if you want the specifically modern Japanese version, please click on the zen Kanji to the right. Technically, there is no difference in Tensho and Reisho versions of Zen since they are ancient character styles that existed long before Japan had a written language.



There is also an alternate/shorthand/simplified Chinese version which has two dots or tails above the right-side radical. This version is also popular for calligraphy in China. If you want this version, just click the character to the right.
---
Further notes: Zen is just one of seven sects of Buddhism practiced in Japan. The others are 律 Ritsu (or Risshū), 法相 Hossō, 論 Sanron 華嚴 Kegon, 天台 Tendai, and 眞言 Shingon.

lǐ niàn

ri nen

이념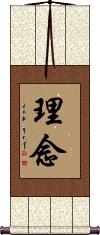 理念 / 理唸 means idea, notion, concept, principle, theory, philosophy*, or doctrine in Chinese, Japanese Kanji, and old Korean Hanja.

理念 / 理唸 is OK for a wall scroll, although it's more commonly used as an oral/informal word in Asia.

* 理念 / 理唸 is not the title for philosophy but rather is about having a certain philosophy or approach to something.

yì jiàn

i ken

의견

意見 means idea, thought, opinion, or view in Japanese.

意見 also has a similar meaning in Chinese, just often used in China.

sī xiǎng

shisou

사상

思想 means thought, thinking, or idea in Chinese, Japanese Kanji, and old Korean Hanja. Sometimes it can mean ideology, depending on context.

This can refer to someone's personality - like saying, "he is a thinker."

zuò chán

za zen

좌선

This describes the act of sitting in the state of deep meditation. You'll notice that the second character is Chan/Zen, which is often used to title the meditative form of Buddhism. In Korean Hanja, this means "religious meditation" (basically the same as the Chinese definition). This can also be defined as abstract meditation, fixed abstraction, or contemplation.

Buddhists may define this as, sitting in dhyāna, abstract meditation, fixed abstraction, or contemplation.
---

Japanese note: This will make sense in Japanese but the Kanji shown to the left are partially in ancient/traditional Japanese form. Japanese Buddhists may use 坐禪, 坐禅, 座禪, or 座禅. The most standard/modern Japanese form of this word is shown to the right. Click on the Kanji to the right (instead of the button above) if you want this specifically Japanese version.

fǎn xǐng

hansei / hanse

반성

反省 is the Chinese, Japanese Kanji, and old Korean Hanja means several things including: to reflect upon oneself; to examine one's conscience; to question oneself; to search one's soul; reflection; reconsideration; introspection; meditation; contemplation; regret; repentance; remorse.

míng xiǎng

mei sou

명상

This encompasses the idea of meditation. It's also a term used to describe a deep form of day-dreaming, exploring one's imagination, the act of contemplating, or the idea of contemplation. 冥想 is often associated with Buddhism, however, the word "Zen" in Japanese (or "Chan" in Chinese) is probably more commonly used (or better known in the west).
---
See Also: Zen

niàn

nen

념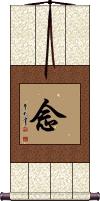 念 is the simplest way to write "mindfulness" in Chinese, Japanese Kanji, and old Korean Hanja.

念 can be defined these ways: To read; to study (a degree course); to read aloud; to miss somebody (keeping them in your mind); idea; remembrance; sense; thought; feeling; desire; concern; attention; recollection; memory; to think on/about; reflect; repeat, intone; a moment.

Obviously, the context in which the character is used determines which definition or meaning is perceived. As a single character, it's open and perhaps ambiguous. Thus, it can be read with any or all of these meanings.

念 is used in a Buddhist context (often written as 正念 or "right mindfulness") with similar meanings of thought and contemplation.

In Japanese, this character is sometimes used as a name "Nen."
---
See Also: Buddhism | Enlightenment
Search for Contemplation in my Japanese & Chinese Dictionary
The following table may be helpful for those studying Chinese or Japanese...
Title
Characters
Romaji

(Romanized Japanese)

Various forms of Romanized Chinese
Zen Contemplation
入定
rù dìng / ru4 ding4 / ru ding / ruding
ju ting / juting
Zen
Chan
Meditation
禪

---

禅
zen
chán / chan2 / chan
ch`an / chan
Idea
Concept
理念 / 理唸

---

理念
ri nen / rinen
lǐ niàn / li3 nian4 / li nian / linian
li nien / linien
Idea
Thought
意見
i ken / iken
yì jiàn / yi4 jian4 / yi jian / yijian
i chien / ichien
Idea
Thought
意念 / 意唸

---

意念
yì niàn / yi4 nian4 / yi nian / yinian
i nien / inien
Thought
Thinking
Idea
思想
shisou / shiso
sī xiǎng / si1 xiang3 / si xiang / sixiang
ssu hsiang / ssuhsiang
Sit in Meditation
坐禪

---

坐禅
za zen / zazen
zuò chán / zuo4 chan2 / zuo chan / zuochan
tso ch`an / tsochan / tso chan
Truth Flashed Through The Mind
參悟

---

参悟
cān wù / can1 wu4 / can wu / canwu
ts`an wu / tsanwu / tsan wu
Reflect
反省
hansei / hanse
fǎn xǐng / fan3 xing3 / fan xing / fanxing
fan hsing / fanhsing
Meditation
冥想
mei sou / meisou / mei so / meiso
míng xiǎng

---

ming2 xiang3

---

ming xiang

---

mingxiang
ming hsiang

---

minghsiang
Mindfulness
念
nen
niàn / nian4 / nian
nien
In some entries above you will see that characters have different versions above and below a line.
In these cases, the characters above the line are Traditional Chinese, while the ones below are Simplified Chinese.
Successful Chinese Character and Japanese Kanji calligraphy searches within the last few hours...
All of our calligraphy wall scrolls are handmade.
When the calligrapher finishes creating your artwork, it is taken to my art mounting workshop in Beijing where a wall scroll is made by hand from a combination of silk, rice paper, and wood.
After we create your wall scroll, it takes at least two weeks for air mail delivery from Beijing to you.
Allow a few weeks for delivery. Rush service speeds it up by a week or two for $10!
When you select your calligraphy, you'll be taken to another page where you can choose various custom options.
Check out my lists of Japanese Kanji Calligraphy Wall Scrolls and Old Korean Hanja Calligraphy Wall Scrolls.
Some people may refer to this entry as Contemplation Kanji, Contemplation Characters, Contemplation in Mandarin Chinese, Contemplation Characters, Contemplation in Chinese Writing, Contemplation in Japanese Writing, Contemplation in Asian Writing, Contemplation Ideograms, Chinese Contemplation symbols, Contemplation Hieroglyphics, Contemplation Glyphs, Contemplation in Chinese Letters, Contemplation Hanzi, Contemplation in Japanese Kanji, Contemplation Pictograms, Contemplation in the Chinese Written-Language, or Contemplation in the Japanese Written-Language.
5 people have searched for Contemplation in Chinese or Japanese in the past year.
Contemplation was last searched for by someone else on Aug 16th, 2015