Not what you want?
Try searching again using:
1. Other similar-meaning words.
2. Fewer words or just one word.
Beaut in Chinese / Japanese...
Buy a Beaut calligraphy wall scroll here!
Start your custom "Beaut" project by clicking the button next to your favorite "Beaut" title below...
Switched to secondary search mode due to lack of results using primary.
These secondary results may not be very accurate. Try a different but similar meaning word or phrase for better results. Or...
Look up Beaut in our Japanese Kanji & Chinese Character Dictionary
Our dictionary is a different system then the calligraphy search you just tried.
If you want a special phrase, word, title, or proverb, feel free to contact me, and I will translate your custom calligraphy idea for you.

měi róng shī

biyoushi

미용사

美容師 means beautician in Korean and Chinese but can mean hairdresser (especially in Japan).

ka chou fuu getsu

花鳥風月 is the Japanese Kanji proverb for "Beauties of Nature."

The dictionary definition is, "the traditional themes of natural beauty in Japanese aesthetics."

The Kanji each represents an element of nature that constitute beauty in traditional Japanese art and culture.

The Kanji breakdown:
花 = ka = flower (also pronounced "hana")
鳥 = chou = bird (also pronounced "tori").
風 = fuu = wind (also pronounced "kaze").
月 = getsu = moon (also pronounced "tsuki")

měi

bi

미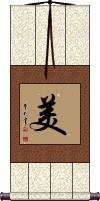 美 is often used to describe the beauty of a woman. However, when applied to a man, it can mean handsome. It's also the first character in the word for "beauty salon" which you will see all over China and Japan.

This can be used as the given name for a girl (spell it or say it as "Mei" or "May").

For a bit of trivia: The title for the "USA" in Chinese is "Mei Guo" which literally means "Beautiful Country." This name was bestowed at a time before Chairman Mao came to power and decided that China didn't like the USA anymore (even though we fought together against the Japanese in WWII). But these days, Chinese people love Americans (but have distaste for American politics and policy). But I digress...

美 is also how "Beautiful" is written in Japanese Kanji and Korean Hanja. 美 can also mean: very satisfactory; good; to be pleased with oneself; abbreviation for the USA; fine; handsome; admirable; madhura; sweet; pleasant.

nihonbare

This Japanese Kanji title means beautiful weather, clear and cloudless sky, or clear weather. It's a little odd but if you literally-translated this phrase, it says, "Japanese weather," as if that was an indication of perfect weather (maybe a little arrogant on behalf of Japan - I've experienced a monsoon there, which was unpleasant).

hé měi

wa mi

These two characters create a word that means, "harmonious" or, "in perfect harmony." The deeper meaning or more natural translation would be something like, "beautiful life."

The first character means peace and harmony.

The second character means beautiful. But in this case, when combined with the first character, beautiful refers to being satisfied with what you have in your life. This can be having good relations, good feelings, comfort, and having enough (with no feeling of wanting).
---
Note: In Japanese, this is often used as the name "Wami." This title is probably more appropriate if your audience is Chinese.

měi róng

biyou

미용

In Chinese, this is the title for the art of beauty, as applying makeup or cosmetics to enhance beauty.

Note: In Japanese and Korean, this takes the meaning of beautiful face or beauty of figure or form. Be sure you know who your audience is, and have matched the desired meaning.

měi lì de gōng zhǔ
美麗的公主 is how to write beautiful princess in Chinese. The first two characters mean feminine beauty, or rather a way to say beautiful that only applies to women. The middle character is just a connecting character. The last two characters mean princess.
---
See Also: Queen
Search for Beaut in my Japanese & Chinese Dictionary
The following table may be helpful for those studying Chinese or Japanese...
Title
Characters
Romaji

(Romanized Japanese)

Various forms of Romanized Chinese
Beautician
Hairdresser
美容師

---

美容师
biyoushi / biyoshi
měi róng shī

---

mei3 rong2 shi1

---

mei rong shi

---

meirongshi
mei jung shih

---

meijungshih
Beauty of Nature
花鳥風月
ka chou fuu getsu

---

kachoufuugetsu

---

ka cho fu getsu

---

kachofugetsu
Beauty
Beautiful
Handsome
美
bi
měi / mei3 / mei
Beautiful Clear Sky
日本晴
nihonbare
Beautiful Girl
美麗的姑娘

---

美丽的姑娘
měi lì de gū niang

---

mei3 li4 de gu1 niang

---

mei li de gu niang

---

meilideguniang
mei li te ku niang

---

meilitekuniang
Beautiful Heart
Beautiful Mind
美しい心
utsukushii kokoro

---

utsukushiikokoro

---

utsukushi kokoro

---

utsukushikokoro
Beautiful Life
Life in Perfect Harmony
和美
wa mi / wami
hé měi / he2 mei3 / he mei / hemei
ho mei / homei
Beauty: The art of makeup
cosmetics
美容
biyou / biyo
měi róng / mei3 rong2 / mei rong / meirong
mei jung / meijung
Beautiful Mind
美麗心靈

---

美丽心灵
měi lì xīn líng

---

mei3 li4 xin1 ling2

---

mei li xin ling

---

meilixinling
mei li hsin ling

---

meilihsinling
Beautiful Princess
美麗的公主

---

美丽的公主
měi lì de gōng zhǔ

---

mei3 li4 de gong1 zhu3

---

mei li de gong zhu

---

meilidegongzhu
mei li te kung chu

---

meilitekungchu
In some entries above you will see that characters have different versions above and below a line.
In these cases, the characters above the line are Traditional Chinese, while the ones below are Simplified Chinese.
Successful Chinese Character and Japanese Kanji calligraphy searches within the last few hours...
All of our calligraphy wall scrolls are handmade.
When the calligrapher finishes creating your artwork, it is taken to my art mounting workshop in Beijing where a wall scroll is made by hand from a combination of silk, rice paper, and wood.
After we create your wall scroll, it takes at least two weeks for air mail delivery from Beijing to you.
Allow a few weeks for delivery. Rush service speeds it up by a week or two for $10!
When you select your calligraphy, you'll be taken to another page where you can choose various custom options.
Check out my lists of Japanese Kanji Calligraphy Wall Scrolls and Old Korean Hanja Calligraphy Wall Scrolls.
Some people may refer to this entry as Beaut Kanji, Beaut Characters, Beaut in Mandarin Chinese, Beaut Characters, Beaut in Chinese Writing, Beaut in Japanese Writing, Beaut in Asian Writing, Beaut Ideograms, Chinese Beaut symbols, Beaut Hieroglyphics, Beaut Glyphs, Beaut in Chinese Letters, Beaut Hanzi, Beaut in Japanese Kanji, Beaut Pictograms, Beaut in the Chinese Written-Language, or Beaut in the Japanese Written-Language.
1 people have searched for Beaut in Chinese or Japanese in the past year.
Beaut was last searched for by someone else on Jul 7th, 2018