Not what you want?
Try searching again using:
1. Other similar-meaning words.
2. Fewer words or just one word.
Ancestors in Chinese / Japanese...
Buy an Ancestors calligraphy wall scroll here!
Start your custom "Ancestors" project by clicking the button next to your favorite "Ancestors" title below...
Quick links to words on this page...

zǔ xiān chóng bài

so sen suu hai

祖先崇拜 means "Appreciation and honor of your ancestors." This can refer to anyone from your grandparents and beyond.

The first two characters mean ancestors or forefathers.

The last two characters mean adore, worship, adoration, or admiration.

祖先崇拜 is the kind of wall scroll that a filial son or daughter in China or Japan would hang to honor their ancestors who paved the way for the new generation.
---

Japanese use a slight variation on the last Kanji. If you want this specifically Japanese version, just click on the Kanji image to the right (instead of the button above). Note that Japanese people would easily be able to identify the original Chinese form of that Kanji anyway.

They also have a similar phrase in old Korean but the first two characters are reversed - just let me know if you want that version when you place your order.

wǔ zǔ quán

五祖拳 is a martial arts concept (some would say "school") known as Five Ancestors' Fist.

The first character means five.
The second means ancestor, forefather, or grandparents.
The third means fist.


The ancestors referred to by this title and whose attributes contribute to this style are as follows:
1. Grace of the White Crane.
2. Agility of the Monkey.
3. Precision and skill of Emperor Taizu (great mythical ancestor).
4. Power of Luohan (Buddhist arhat).
5. Breath of Damo (founder of Buddhism, or the first Buddha).

xiào

kou

효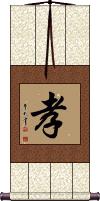 孝 represents filial piety. Some will define this in more common English as "respect for your parents and ancestors."

孝 is a subject deeply emphasized by the ancient philosophy and teachings of Confucius.

Some have included this in the list for the Bushido, although generally not considered part of the 7 core virtues of the warrior.

Note: 孝 is not the best of meanings when seen along as a single character. Some will read the single character form to mean "missing my dead ancestors." However, when written at part of Confucian tenets, or in the two-character word that means filial piety, the meaning is better or read differently (context is important for this character).

We suggest one of our other two-character filial piety entries instead of this one.
---
See our page with just Code of the Samurai / Bushido here
---
See Also: Filial Piety | Confucius

hè

gaku / tsuru

학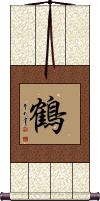 鶴 is a famous bird of China. Known in China to be a very spiritual creature, the crane is a symbol of both longevity, and the journey of souls and spirits of ancestors.

Note: 鶴 can mean crane or stork in Japanese.

xiào xìng

koukou

효행

These two characters express the idea of filial piety or filial conduct. The second character suggests "action" so these are the actions you take to show your respect and obedience to your elders or ancestors.

Confucius is probably the first great advocate for filial piety.

xiào dào

kou dou

효도

These two characters most clearly express the Confucian philosophy of filial piety. Confucius taught that all should be respectful and obedient to their parents. Included in this idea is honoring your ancestors.

The second character is "dao/tao" or "the way" as in Taoism. You can say this title is "The Tao of Filial Piety" or "The Way of Filial Piety."
---
See Also: Confucius

chī shuǐ bú wàng jué jǐng rén

흘수불망굴정인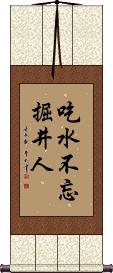 This proverb suggests that one should always be grateful to those who helped you succeed.

And remember your ancestors and those that came before you whose sacrifices made your present life better.

Some Chinese will separate the intended meaning from this proverb and translate this as "Don't forget the people who once helped you." In Modern China, this idiom is virtually never used to refer to an actual well.

Note: This can be pronounced in Korean but it's not a commonly used phrase.

ruǎn

jyun

Min / Gen

원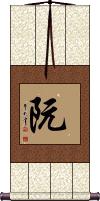 阮 / 阮 is the original Chinese character that represented the Vietnamese surname Nguyễn before Vietnam stopped using Chinese characters and romanized their language. It is probably the most common surname in all of Vietnam. While romanized as Nguyen, it sounds more like the English word "Win" or "When." 阮 / 阮 can also represent the Nguyen Dynasty in Vietnam which lasted from 1802 to 1945.

阮 / 阮 is also the Chinese surname Ruan, most Chinese with this surname have ancestors from a small state named Ruan during the Shang Dynasty (1600-1046 BC) located in the southeast of modern-day Gansu Province.

In Japanese, this can be the rare surnames pronounced Min, Gen, Ken, Gan, or En.

Besides a surname, this character also represents an ancient musical instrument.

nán pài táng láng

남파당랑

This can be translated literally as "Southern School Praying Mantis" or "Southern Style Praying Mantis."

Despite its name, the Southern Praying Mantis style of Chinese martial arts is unrelated to the Northern Praying Mantis style. Southern Praying Mantis is instead related most closely to fellow Hakka styles such as Dragon and more distantly to the Fujian family of styles that includes Fujian White Crane, Five Ancestors, and Wing Chun.

This style of martial arts focuses more on fighting skills rather than aesthetics.

Of course, you already knew that if you were looking for this term.

Note: This title can be pronounced and does have meaning in Korean but only to Koreans familiar with Chinese martial arts.

yī sī lán jiào

This both means and sounds like "Islam" in Mandarin Chinese.

The first three characters sound like the word "Islam," and the last character means "religion" or "teaching." It's the most general term for "Islam" in China. The highest concentration of Muslims in China is Xinjiang (the vast region in northwest China that was called The East Turkistan Republic until 1949 and is sometimes called Chinese Turkistan, Uyghuristan). Here you will find Uygurs, Kazakhs, and Kyrgyz and others that are descendants of Turkmen (possibly mixed with Persians and Arabs). Many of their ancestors were traders who traveled the silk road to buy and sell spices, silk, and exchange other goods from the Orient and the Middle East.

I spent some time in Xinjiang and got to know this community. They are strong people who can endure much. They are friendly and love to have a good time. I was a stranger but treated by villagers (near China's border with Afghanistan) as if I was a good friend.
However, I have heard that it's best not to cross them, as in this land, the law is the blade, and everything is "eye for an eye." The Chinese government has little control in Xinjiang with almost no police officers except in the capital of Urumqi (so it's a 60-hour roundtrip train ride to seek the aid of law enforcement in most cases).

While few seem to be devout, there are at least small mosques in every village. And you will never see a man or woman outside without a head covering.

It should be noted that these people are all citizens of China, but they are officially of the Caucasian race. A visit to Xinjiang will change your idea what it means to be Chinese.
Search for Ancestors in my Japanese & Chinese Dictionary
The following table may be helpful for those studying Chinese or Japanese...
Title
Characters
Romaji

(Romanized Japanese)

Various forms of Romanized Chinese
Honor for Ancestors
祖先崇拜

---

祖先崇拜 / 祖先崇拝
so sen suu hai

---

sosensuuhai

---

so sen su hai

---

sosensuhai
zǔ xiān chóng bài

---

zu3 xian1 chong2 bai4

---

zu xian chong bai

---

zuxianchongbai
tsu hsien ch`ung pai

---

tsuhsienchungpai

---

tsu hsien chung pai
Five Ancestors Fist
五祖拳
wǔ zǔ quán

---

wu3 zu3 quan2

---

wu zu quan

---

wuzuquan
wu tsu ch`üan

---

wutsuchüan

---

wu tsu chüan
Filial Piety
孝
kou / ko
xiào / xiao4 / xiao
hsiao
Family Bond
Family Ties
親緣

---

亲缘
qīn yuán / qin1 yuan2 / qin yuan / qinyuan
ch`in yüan / chinyüan / chin yüan
Crane
鶴

---

鹤
gaku / tsuru
hè / he4 / he
ho
Filial Piety
Filial Conduct
孝行
koukou / koko
xiào xìng

---

xiao4 xing4

---

xiao xing

---

xiaoxing
hsiao hsing

---

hsiaohsing
The Dao of Filial Piety
孝道
kou dou / koudou / ko do / kodo
xiào dào / xiao4 dao4 / xiao dao / xiaodao
hsiao tao / hsiaotao
Drinking the water of a well, one should never forget who dug it
吃水不忘掘井人
chī shuǐ bú wàng jué jǐng rén

---

chi1 shui3 bu2 wang4 jue2 jing3 ren2

---

chi shui bu wang jue jing ren

---

chishuibuwangjuejingren
ch`ih shui pu wang chüeh ching jen

---

chih shui pu wang chüeh ching jen
Nguyen
Ruan
阮 / 阮

---

阮
Min / Gen
ruǎn / ruan3 / ruan
juan
Southern Praying Mantis
南派螳螂
nán pài táng láng

---

nan2 pai4 tang2 lang2

---

nan pai tang lang

---

nanpaitanglang
nan p`ai t`ang lang

---

nanpaitanglang

---

nan pai tang lang
Islam
伊斯蘭教

---

伊斯兰教
yī sī lán jiào

---

yi1 si1 lan2 jiao4

---

yi si lan jiao

---

yisilanjiao
i ssu lan chiao

---

issulanchiao
Family Bond
Family Ties
類縁
ruien
In some entries above you will see that characters have different versions above and below a line.
In these cases, the characters above the line are Traditional Chinese, while the ones below are Simplified Chinese.
Successful Chinese Character and Japanese Kanji calligraphy searches within the last few hours...
All of our calligraphy wall scrolls are handmade.
When the calligrapher finishes creating your artwork, it is taken to my art mounting workshop in Beijing where a wall scroll is made by hand from a combination of silk, rice paper, and wood.
After we create your wall scroll, it takes at least two weeks for air mail delivery from Beijing to you.
Allow a few weeks for delivery. Rush service speeds it up by a week or two for $10!
When you select your calligraphy, you'll be taken to another page where you can choose various custom options.
Check out my lists of Japanese Kanji Calligraphy Wall Scrolls and Old Korean Hanja Calligraphy Wall Scrolls.
Some people may refer to this entry as Ancestors Kanji, Ancestors Characters, Ancestors in Mandarin Chinese, Ancestors Characters, Ancestors in Chinese Writing, Ancestors in Japanese Writing, Ancestors in Asian Writing, Ancestors Ideograms, Chinese Ancestors symbols, Ancestors Hieroglyphics, Ancestors Glyphs, Ancestors in Chinese Letters, Ancestors Hanzi, Ancestors in Japanese Kanji, Ancestors Pictograms, Ancestors in the Chinese Written-Language, or Ancestors in the Japanese Written-Language.