Not what you want?
...Or search again using:
1. Other similar-meaning words.
2. Fewer words or just one word.
Tiger Rumor in Chinese / Japanese...
Buy a Tiger Rumor calligraphy wall scroll here!
Start your custom "Tiger Rumor" project by clicking the button next to your favorite "Tiger Rumor" title below...

sān rén chéng hǔ

삼인성호
These four characters together relay the meaning that can be expressed in English as, "When three people say there's a tiger running in the street, you believe it."

Of course, there is an ancient story behind this idiom...

This is actually a proverb that resulted from a conversation that occurred around 300 B.C.

The conversation was between the king of the Wei kingdom and one of the king's ministers named Pang Cong.

It was near the end of one of many wars, this time with the Zhao kingdom. Pang Cong was to be sent by the king to the Zhao kingdom with the king's son who was to be held hostage. It was common at the time for a king to make his son a hostage to secure stable peace between warring kingdoms.
Before minister Pang Cong departed, he asked his king, "If one person told you there was a tiger running in the street, would you believe it?."


"No," the king said.

The minister continued, "What if two people told you?"

The king replied, "Well, I would have my doubts but I might believe it."

The minister continued, "So, what if three people told you that there is a tiger running in the streets?"

The king replied, "Yes, I would believe it, it must be true if three people say it."

The minister then reminded the king, "Your son and I are now traveling far away to live in the distant Zhao kingdom - much farther from your palace than the street. Rumors may fly about me in my absence, so I hope your majesty will weight such rumors appropriately."

The king replied, "I have every trust in you, do not worry"
While the minister was gone, the king's enemies gossiped about minister Pang Cong on many occasions. At first, the king thought nothing of these comments and rumors. But slowly as the rumors mounted, the king began to suspect ill of his minister.

Some time later when peace was well-established, the minister and prince were freed and returned to the kingdom of Wei. The king received his son, BUT DID NOT EVEN SUMMON MINISTER PANG CONG TO THE PALACE!

Hopefully this story will help you see how dangerous words can be when used to promote rumors, or create ill will. And perhaps will inspire you to not believe everything you hear.

There is also a secondary suggestion in this idiom that gossip is as ferocious as a tiger. Some Chinese people who don't know the ancient story above may believe that this scroll means that rumors are as vicious as three tigers.

Note: This proverb appears in my Korean dictionary but is not well-known in Korea.
Not the results for tiger rumor that you were looking for?
Below are some entries from our dictionary that may match your Tiger Rumor search...
Characters
If shown, second row is Simplified Chinese
Pronunciation
Romanization
Simple Dictionary Definition

三人成虎

see styles
sān rén chéng hǔ

/ san1 ren2 cheng2 hu3

---

san jen ch`eng hu

/ san jen cheng hu

three men talking makes a tiger (idiom); repeated rumor becomes a fact

---
Buy some related in-stock artwork?
Compare: $40.00
Your Price: $16.88
Compare: $40.00
Your Price: $16.88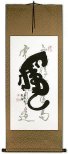 Compare: $53.00
Your Price: $29.00
All of our calligraphy wall scrolls are handmade.
When the calligrapher finishes creating your artwork, it is taken to my art mounting workshop in Beijing where a wall scroll is made by hand from a combination of silk, rice paper, and wood.
After we create your wall scroll, it takes at least two weeks for air mail delivery from Beijing to you.
Allow a few weeks for delivery. Rush service speeds it up a week or two for $10!
When you select your calligraphy, you'll be taken to another page where you can choose various custom options.
If your search is not successful, just post your request on our forum, and we'll be happy to do research or translation for any reasonable request.
Successful Chinese Character and Japanese Kanji calligraphy searches within the last few hours...
With so many searches, we had to upgrade to our own Linux server.
Of course, only one in 500 searches results in a purchase - Hey buy a wall scroll!!!
The following table is only helpful for those studying Chinese (or Japanese), and perhaps helps search engines to find this page when someone enters Romanized Chinese or Japanese
Title
Characters
Various forms of Romanized Chinese
Tiger Rumor
三人成虎
sān rén chéng hǔ

---

san1 ren2 cheng2 hu3

---

san ren cheng hu

---

sanrenchenghu
san jen ch`eng hu

---

sanjenchenghu

---

san jen cheng hu
This page of Tiger Rumor Chinese calligraphy dictionary search results was generated in 0.0498 seconds.