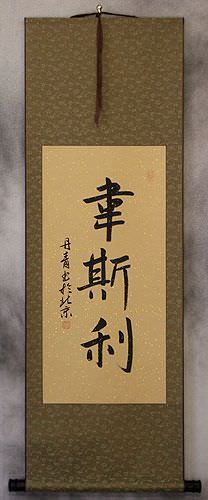 Approximate Measurements
Artwork Panel: 32.3cm x 67.3cm ≈ 12¾" x 26½"
Silk/Brocade: 41.7cm x 123cm ≈ 16½" x 48½"
Width at Wooden Knobs: 50.7cm ≈ 20"
Wesley Wall Scroll
Nothing wrong with this wall scroll. It's a name scroll, and the name depicted happens to be "Wesley". If your name is Wesley, or you need a gift for someone named Wesley, this is a real bargain. We accidentally made two scrolls for someone who ordered the name Wesley, which is the reason this scroll exists.