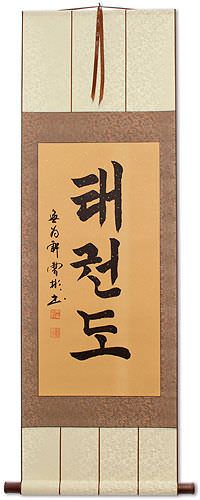 Approximate Measurements
Artwork Panel: 32.8cm x 67.2cm ≈ 13" x 26½"
Silk/Brocade: 41.7cm x 128.6cm ≈ 16½" x 50½"
Width at Wooden Knobs: 50.7cm ≈ 20"
Discount Asian Art
Reason for discount: Minor spots on the roller at the bottom of this wall scroll.

Written in Korean Hangul by a master calligrapher, this wall scroll should be worth between $100 to $200 in a gallery. However, this one has a minor flaw, and is discounted to less than half price. The calligraphy panel is perfect, so you could cut the top and bottom of the scroll off and frame this for a very nice presentation.
Taekwondo
Korean Martial Arts