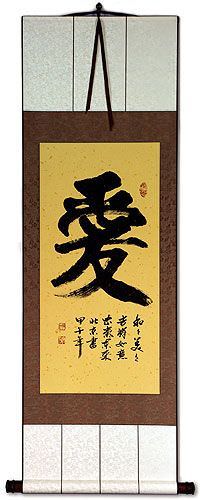 Approximate Measurements
Artwork Panel: 32.5cm x 68.2cm ≈ 12¾" x 26¾"
Silk/Brocade: 42cm x 126.8cm ≈ 16½" x 50"
Width at Wooden Knobs: 51cm ≈ 20"
LOVE
This wall scroll literally says "LOVE".
Reason for discount: This one just is not-quite-perfect. This is a very subjective rating that I've given it. It should have passed inspection, but I found such minor issues that I could not let it go at full price. Just a ghost wrinkle that appears only if the light hits the scroll at just the right angle, if you must know.