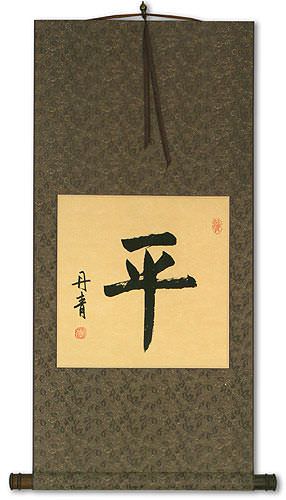 Approximate Measurements
Artwork Panel: 32.9cm x 32.9cm ≈ 13" x 13"
Silk/Brocade: 41.8cm x 88.5cm ≈ 16½" x 34¾"
Width at Wooden Knobs: 50.8cm ≈ 20"

Balance (Peace)
Chinese / Japanese Calligraphy Scroll
This character means balance. Sometimes the thought of being in balance, also takes on the meaning of being at peace. Therefore, this character really has too meanings.
Pronunciation:
Mandarin: píng
Japanese: hira
Korean: 평 (pyeong)
If you want to remember to keep your life, family, friends, and/or job in balance (so that you can find peace), this is a great wall scroll to hang in your home or office.
---
See our Balance custom Japanese Kanji and Chinese character wall scrolls page for more custom Japanese Kanji calligraphy options.
---
This calligraphy was created by Li Dan-Qing of Beijing, China. Materials are xuan paper (known in the west incorrectly as "rice paper") mounted to a silk brocade wall scroll. Painted by hand, and the wall scroll is crafted by hand.