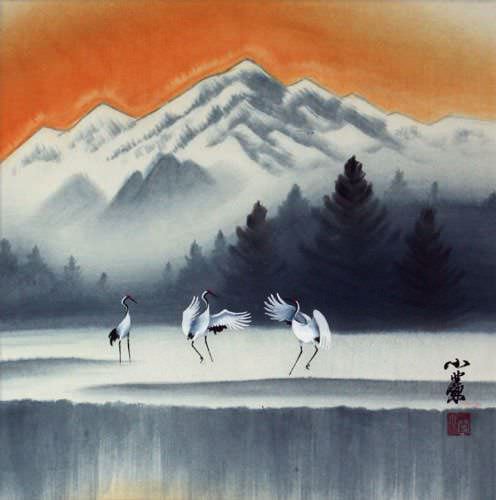 For the best possible display, this portrait should be professionally framed.

A frame is not included with this artwork!
tian
Sky / Day
shan
Mountain
xue
Snow
ji
Clearing
Tian Mountain Snowscape
This is the roughly translated title of this piece
Tian is the name of this famous mountain in China. The meaning of "Tian" in this case means "sky". So you can call this "Sky Mountain".
This hand-painted artwork is from the
Xiao Meng Asian Art Collection
The artists of this collection are actually a married couple who travel around China together looking for subjects to paint. Their real names are Chen Yong Ping and Chen Wei Ling but they sign all of their work under the single pen name Xiao Meng.
They work as a team on most of these paintings. One of them does the background and the other will handle the detail work on each painting.
The artists take great pride in the fact that they have developed their own unique painting style which they call "hazy painting" (this is roughly translated - it sounds better in Chinese).
They use a combination of "freehand style" and "elaborate style" in their paintings. The background is done using broad fast strokes and spray with very thin paint. The foreground (cranes) are done with a lot of detail using a delicate technique with a very fine brush.
This item was listed or modified
Feb 6th, 2014
Gary's random little things about China:
Crossing the Street: Human Frogger in China
If you are from my generation, you may remember the video game called "Frogger". It involved crossing a busy road while narrowly dodging cars and truck, often both in front of and behind you at the same time.

Well you can play real live Frogger every time you cross the street in China. It is perfectly normal to cross a four or six-lane road, one lane at a time. You stand motionless on the white, dashed line between lanes as cars and trucks whiz by you on both sides with only inches to spare. When the next lane is clear, you advance (there is no retreat in this game, that could get you killed, since drivers in China would never expect that).

If you did this in America, drivers would come to a screeching halt and think you were crazy (they might even tell you so, using colorful words and hand gestures). It is simply a different culture, or rather a different way of doing things in modern Chinese culture.