Buy a Chinese and/or Japanese Mark-anthony wall scroll with here!
Click the "Customize & Buy" button next to your name below to start your custom Mark-anthony calligraphy artwork...

maruko

マルコ is another way to write Mark in Katakana (phonetic Japanese). マルコ is often the way the book of Mark is written when referring to the Japanese Bible. This version is also sometimes used for the name Marco.
---
Note: Because this title is entirely Japanese Katakana , it should be written by a Japanese calligrapher.

kè zhōu qiú jiàn

kokushuukyuuken

각주구검

This originally-Chinese proverb is a warning to people that things are always in a state of change. Thus, you must take that into account, and not depend on the old ways, or a way that may have worked in the past but is no longer valid.

This idiom/proverb comes from the following story:
A man was traveling in a ferry boat across a river. With him, he carried a valuable and treasured sword. Along the way, the man became overwhelmed and intoxicated by the beautiful view, and accidentally dropped his prized sword into the river. Thinking quickly, he pulled out a knife, and marked on the rail of the boat where exactly he has lost his sword.

When the boat arrived on the other side of the river, the man jumped out of the boat and searched for his sword right under where he'd made the mark. Of course, the boat had moved a great distance since he made the mark, and thus, he could not find the sword.

While this man may seem foolhardy, we have to take a great lesson from this parable: Circumstances change, so one should use methods that can handle the change. In modern China, this is used in business to mean that one should not depend on old business models for a changing market.
---
This proverb dates back to the Spring and Autumn period (770–476 BC) of the territory now known as China. It has spread and is somewhat known in Japan and Korea.
This in-stock artwork might be what you are looking for, and ships right away...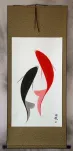 Gallery Price: $100.00
Your Price: $45.00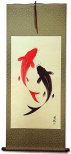 Gallery Price: $71.00
Your Price: $39.00
The following table may be helpful for those studying Chinese or Japanese...
Title
Characters
Romaji

(Romanized Japanese)

Various forms of Romanized Chinese
Mark-Anthony
馬克安東尼

---

马克安东尼
mǎ kè ān dōng ní

---

ma3 ke4 an1 dong1 ni2

---

ma ke an dong ni

---

makeandongni
ma k`o an tung ni

---

makoantungni

---

ma ko an tung ni
Mark-Anthony
マーク アンソニ
maaku ansoni

---

maakuansoni

---

maku ansoni

---

makuansoni
Anthony
アンソニ
ansoni
Mark
マーク
maaku / maku
Mark
マルコ
maruko
Anthony
安東尼

---

安东尼
ān dōng ní

---

an1 dong1 ni2

---

an dong ni

---

andongni
an tung ni

---

antungni
Mark the boat to find the lost sword
Ignoring the changing circumstances of the world
刻舟求劍

---

刻舟求剑
kokushuukyuuken

---

kokushukyuken
kè zhōu qiú jiàn

---

ke4 zhou1 qiu2 jian4

---

ke zhou qiu jian

---

kezhouqiujian
k`o chou ch`iu chien

---

kochouchiuchien

---

ko chou chiu chien
Marc-Anthony
馬克安東尼

---

马克安东尼
mǎ kè ān dōng ní

---

ma3 ke4 an1 dong1 ni2

---

ma ke an dong ni

---

makeandongni
ma k`o an tung ni

---

makoantungni

---

ma ko an tung ni
Mark
馬克

---

马克
mǎ kè / ma3 ke4 / ma ke / make
ma k`o / mako / ma ko
In some entries above you will see that characters have different versions above and below a line.
In these cases, the characters above the line are Traditional Chinese, while the ones below are Simplified Chinese.
All of our calligraphy wall scrolls are handmade.
When the calligrapher finishes creating your artwork, it is taken to my art mounting workshop in Beijing where a wall scroll is made by hand from a combination of silk, rice paper, and wood.
After we create your wall scroll, it takes at least two weeks for air mail delivery from Beijing to you.
Allow a few weeks for delivery. Rush service speeds it up by a week or two for $10!
When you select your calligraphy, you'll be taken to another page where you can choose various custom options.