I may be able to do that in the future.
I am currently working on finding new warrior artists. My last warrior artist (Li Ying-Lai) is now too famous, and far outside my price range (unless you want a $300 wall scroll). I am waiting for samples from a few artists now, and I will pick the best two. Then commission a large order of warrior artwork. I plan to have a very detailed (and expensive) version, and a more affordable, lower-detail version. They'll be priced at about $150 and $90 respectively.
The downside is that I am in the middle of this project. There are still a few months to go before we have anything ready for sale.
Mulan is actually not the most famous female warrior of ancient China (although Disney thinks so) the most famous is actually Mu Guiying. She is on the list of warriors that I want to have available. Once we get going, I may be able to do a custom Mulan for you.
FYI: Mu Guiying looks like this: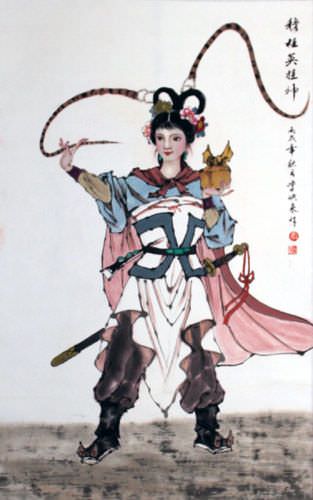 Cheers,
-Gary.